As a member of the Etsy affiliate program and an Amazon Associate, I earn from qualifying purchases.
Anyone who has an allergic pup knows how hard it can be to find allergy friendly dog treats.

When Mama was first figuring out Felix's allergies, he went quite a while with no treats at all, since she had no idea what he could and couldn't eat. One of the first treats she started making was a simple dog treat made of canned dog food. She knew he wasn't allergic to his food and be keeping the additional ingredients limited, she knew she could make treats he wouldn't react to.
Felix went wild for the treats and since then, she's always trying to think of fun ways to make treats from canned food.

We think her latest canned food dog treat is pretty darn cute: Dog Tarts!
The cute little bite sized treat look awfully fancy, even though they're pretty darn easy!
Easy Canned Food Dog Treats - "Dog Tarts"
Ingredients:
1/2 of a 13.2 oz. can of 95% meat dog food (We used the EVO Venison since it's a novel protein and good for a lot of dogs with allergies)
2/3 c. potato flour
1 egg
2 tbsp. olive oil
Instructions
Tart Shells:
Preheat oven to 350F. Line a mini cupcake pan with silicone mini cupcake liners (my favourite!!) or parchment paper liners.
In a medium bowl, beat together egg, olive oil and canned dog food. Add flour slowly, stir until it forms a crumbly mixture. Use your hands to knead the dough until it hold together.
Scoop a 1/2 tbsp. of dough into each mini cupcake cup. Using your fingers or a tart tamper, make a shell in each cup.
Bake for 35 - 40 minutes, until crisp. Remove from oven and allow to cool.
Filling:
1 1/2 13.2 oz cans of 95% meat dog food
Now, you can easily do this with just a standard ziploc bag with the corner snipped off, but the Mama is fancy as woof, so she decided to use a piping bag with a Wilton 22 tip.
Stir the dog food until smooth and no chunks are remaining. Fill you bag with dog food and pipe a generous mound into each cup.
Serve to the dogs, who are by now, gathered 'round your feet, getting in the way and whining like stuck pigs. (No? Just at my house??)
Bone Appetit!
Psssssst – Want to know a secret? This recipe is super versatile and we'll be sharing another fun way to use this dough over at
PupLove
on Thursday! Don't forget!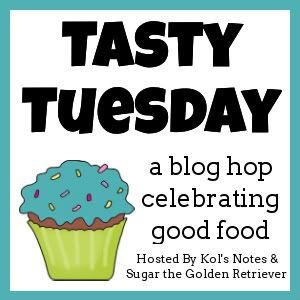 This is a blog hop!
Every week, we invite you to link up your Tastiest Post and Hop On to discover all sorts of new treats recipes, great giveaways and more!
To join in, follow your hosts, Kol's Notes & Sugar the Golden Retriever, grab the badge from our sidebar and add your link to this week's hop!