As a member of the Etsy affiliate program and an Amazon Associate, I earn from qualifying purchases.
Little Luey is going to puppy class.
Um…say it with me: YAAAAAAAAY!! That little guy is cute as woof, but ohmidog, does he need some discipline. The only problem? His allergies keep getting in the way.
Canine allergies can be a big problem when you're looking for tasty, bite sized training treats for dogs.
Luey can't have wheat…or corn…or soy…or rice…or any grains. He can't have chicken or beef. Everything gives him an upset tummy. It's a pain in the tail. After his post-class tummy trouble last week, the Mama was determined to make him something that wouldn't make him sick.
These bite sized treats can be made from whatever meat your allergic pup tolerates best.
For Lu, that meant these were venison dog treats. Felix wanted buffalo dog treats. Mr. "Garbage Guts" Kolchak wanted any/all the meats. These homemade dog treats are super easy to make in the dehydrator or in the oven.
Danned Dog Food Dehydrated Dog Treats
Ingredients:
1 lb. lean ground meat or your dog's favourite canned dog food
water
1 piping bag & a Wilton #18 tip (or a tip #12 or no tip at all! We're very flexible)
parchment paper
Instructions
Line a baking sheet or dehydrator trays with parchment. If using the oven, preheat to 150F.
In a pan, saute the meat until lightly browned. In a blender or food processor, puree until smooth. Press meat paste through a strainer to remove all "chunks". Feed chunks to your resident taste tester.
OR
Skip this step and use pate style canned dog food.
Fill a piping bag with meat paste/canned food. Pipe 1/4" dots onto the parchment, evenly spaced. (Don't worry about crowding, these will shrink as they dry.) Use Wilton tip #18 for "fancy pants" swirls or Wilton tip #12 for plain dots.
Oven Method:
Place trays in oven and bake for 6-8 hours, shaking the trays once or twice to "flip".
Dehydrator Method:
Turn on the dehydrator to the "meat" setting or 150F. Dehydrate for 6-8 hours.
Makes ~1/4 lb. of tiny treats (about enough for one class + practicing after hours)
What do you use for training treats?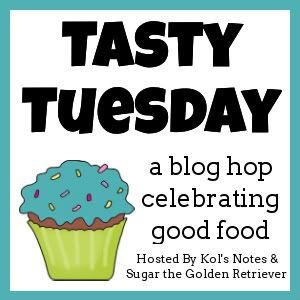 This is a blog hop!
Every week, we invite you to link up your Tastiest Post and Hop On to discover all sorts of new treats recipes, great giveaways
and more!
To join in, follow your hosts, Kol's Notes & Sugar the Golden Retriever, grab the badge from our sidebar and add your link to this week's hop!