As a member of the Etsy affiliate program and an Amazon Associate, I earn from qualifying purchases.
the Mama was looking at recipes for human treats again this weekend.
Normally, I would discourage this frivolous waste of time. Every moment she spends on human pursuits is time taken away from creating new doggy delights. However, every now and again, she comes up with something so easy and so tasty, I can't even fault her for it.
Mama was taken by the simplicity and awesomeness of this recipe for ice box cake from Smitten Kitchen. Holy woof! You'd have thought the Mama had never seen a cookie before she was drooling so much. She was itching to try this herself, but we all know the Mama. Long before the human version ever graced our kitchen, she was hard at work "dogifying" it.
Super Easy, really tasty dog friendly cake with no baking.
Jackpot! The Mama might be a lunatic when it comes to spending hours in the kitchen making culinary canine delights, but we know most of you have humans who aren't crazy as interested in spending all day slaving over a hot stove for the dog.
This easy cake uses only two ingredients, requires no baking and it drove the Casa de Kolchak Dogs crazy!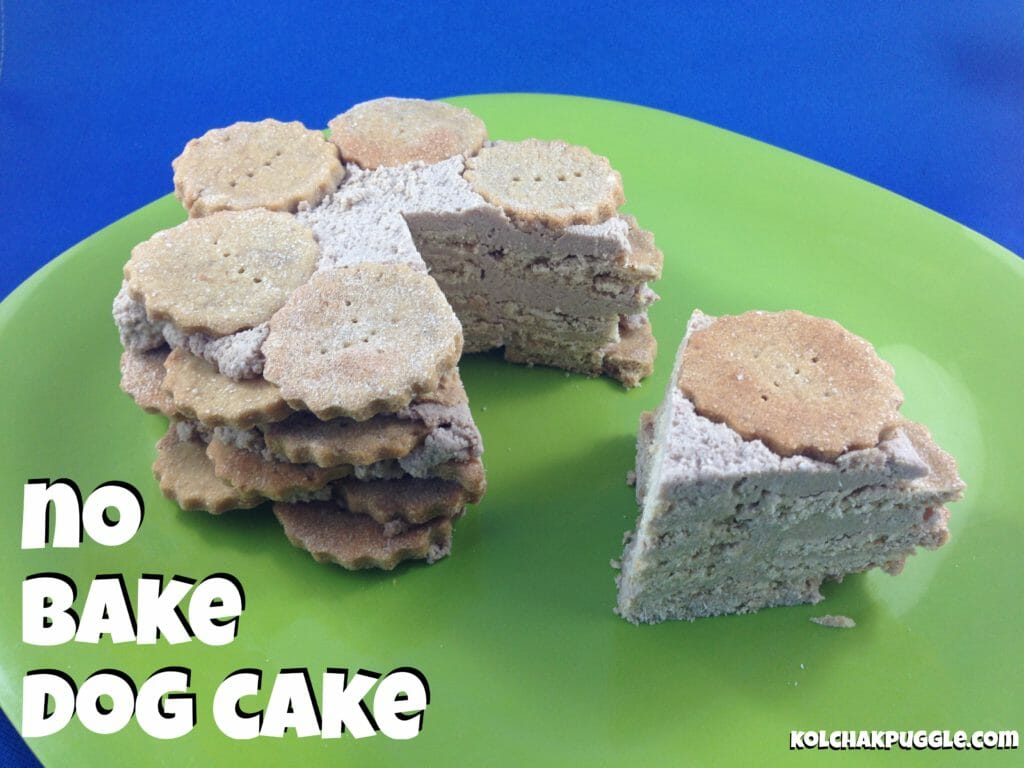 Ingredients:

Instructions

On your cake plate (aka any plate you're comfortable putting dog food on) spread a tablespoon of dog food into a circle. Press dog treats into this base layer in a circular pattern.

Spread another tablespoon of dog food on top of the first layer of treats, then press treats into the canned food, overlapping the cookies from the first layer. Alternate layers of cookies & canned food until your cake is the desired height.

On your final layer, I like to leave the middle cookie out and replace it with well wishes or whatever you might be celebrating.

Cover the cake with plastic wrap and place it into the fridge over night (at least 12 hours). Overnight the cookies will absorb the moisture in the dog food, leaving the cookies sliceable and delicious.

Remove cake from fridge, slice and serve to your favourite pups.

Want to short cut it? This recipe is pretty darn simple, but...if you want bite sized cakes, you can stack individual cookies a few high with dog food between them. Refrigerate as usual and serve whole.
The best part of this recipe is that it can be whatever flavours you want.
These treats are great for dogs with allergies. It can be tailored to your pets and made grain-free, soy-free, egg-free – free! Free of whatever allergens set off your dog's triggers.
What's your dog's favourite treat? Would it make a good dog cake?
_____________________________________
It's Tasty Tuesday!
To join in, follow your hosts, Kol's Notes & Sugar the Golden Retriever, grab the badge from our Tasty Tuesday page and add your link to this week's hop!