As a member of the Etsy affiliate program and an Amazon Associate, I earn from qualifying purchases.
The Mama is headed to BlogPaws this week and is currently running around the house like a chicken with it's head cut off. She's not good for much of anything, so even though she bought some super cute paw print pans this week, she's not making anything in them. She did however make a woof load of treats to take to BlogPaws with her, so if you happen to be there, you should totally go up, introduce yourself and ask for a snack.
We're super excited to welcome today's guest author to the blog.
Anyone who loves to cook for their dog must know the Doggy Dessert Chef. The Doggy Dessert Chef is super talented and knows just what to do to made a doggy drool. She's a huge source of inspiration for us and (the Mama's going to be totally starstruck when she meets her at BlogPaws this week.)
Plus, these treats sound so good even the Mama's mouth is watering.
Rosemary chicken is a HUGE favourite at Casa de Kolchak for both the pups and the peeps. We're dying for the Mama to get home and try this recipe out.
(Gluten-Free) Rosemary Lemon Chicken Dog Treats
Ingredients:
1 Chicken Breast, cooked and chopped
1/2 teaspoon dried Rosemary, crushed
1 teaspoon Lemon Juice (or juice from one Lemon)
1/3 cup Milk
1 1/4 cup Oat Flour
Instructions
1. Preheat oven to 300 degrees Fahrenheit and line a baking sheet with parchment paper or a silicone baking mat.
2. In a large bowl add all ingredients and mix well.
3. Knead dough into ball and roll onto a floured surface 1/4 inch thick and cut with your cookie cutter of your choice.
4. Place on prepared baking sheet and bake for 20 to 25 minutes.
Cool and refrigerate.
Makes 2 to 3 dozen rounds.
Bone Appetit!
Tasty's post is brought to you by the super talented Doggy Dessert Chef. Visit the Chef for fabulous dog treat recipes, including some of our favourites, like Sweet Potato & Chicken Biscotti and the PB & J Pops. Try 'em, we know you'll love them as much as we do. That Doggy Dessert Chef is a genius.
Find the Doggy Dessert Chef on
_______________________________________________________________________________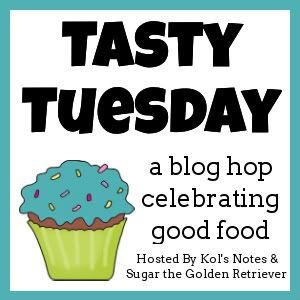 It's Tasty Tuesday!
To join in, follow your hosts, Kol's Notes & Sugar the Golden Retriever, grab the badge from our Tasty Tuesday page and add your link to this week's hop!
---