As a member of the Etsy affiliate program and an Amazon Associate, I earn from qualifying purchases.
It's getting hot in here, so take off all your clothes…
What a stupid suggestion. I'm a dog. I'm not even wearing any clothes. And if I was? I'd be all Donald Duck up in here, rocking out in a shirt with no pants on. That's how I roll baby.
Nope, as a dog, we can't rely on changing into a cooler outfit to help us beat the heat. We've got one outfit and it's always super hot fur, so when the mercury is rising, at Casa de Kolchak we make pupsicles.
There are lots of recipes out there for Frozen Dog Treats.
You'll find recipes made with chicken stock and recipes made with yogurt & peanut butter a plenty, but you have to be careful because most store bought stocks aren't dog friendly and it seems some dogs just don't care for the yogurt treats. Besides, it BBQ season. For some reason when the weather turns nice, the humans start itching to get in touch with their inner cave man and roast food over fire. Mama says that grilling is great because it's so simple. Not fatty sauces, no melty cheese all over – just fresh food, grilled as it is – naturally delicious. The most Mama ever adds is a drizzle of EVOO and some herbs. Not only is this healthy and tasty for the humans, it's healthy and tasty for us dogs too.
BBQ leftovers make fantastic pupsicles.
The humans at Casa de Kolchak do not value leftovers like they should, so Mama set about turning their dinner leftovers in to dog treats. Here's what she had to work with:
Chicken Breast, marinated with EVOO, parsley, sage and thyme (You could also use plain chicken breast or breast marinated in dog-safe, onion-free flavours)

Grilled Potato

Grilled Green Beans

(sometimes, when we're good, these have turkey bacon with them)
It's so simple. Anyone with thumbs can do it. I swear.
Toss all your dog friendly leftovers into the blender. Add water as needed and puree until smooth. (If you're super fancy/a total show off, you can puree each ingredient separately and create pretty layered pupsicles.)
Spoon filling into silicone molds. (We love this bone mold and this paw print mold from K9 Cakery.) If you don't have silicone molds, try ice cube trays. They work great!
Us dogs love these tasty frozen dog treats.
Mama and Daddy don't have to eat leftovers. That's what you call a win/win folks. The best part? You can try this with anything! We hear Mama is going to make grilled lamb next week and we're hoping she'll make lamb & grilled zucchini pupsicles. Salmon & sweet potato pupsicles! They sky is the limit.
What kind of leftovers would your dog love to see as a pupsicle?
Don't forget to check out our other frozen treat recipes, like our Cheesey-Burger Pops, Chicken Ice Cream or Peanut Butter & Pumpkin Ice Cream or our Stuff & Freeze Trachea Chews.
_____________________________________________________________________________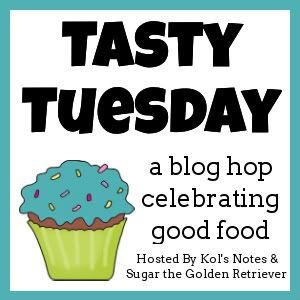 It's Tasty Tuesday!
To join in, follow your hosts, Kol's Notes & Sugar the Golden Retriever, grab the badge from our Tasty Tuesday page and add your link to this week's hop!
---