Holy woof! It's another scorcher at Casa de Kolchak.
Yesterday, we got to chill out by the lake and have some fun. Even though it was super hot, Mama knows exactly how to help dogs stay cool during the summer. An important part of helping dogs beat the heat is making sure they stay hydrated. The loss of as little as 10% of a dog's water can result in serious dehydration. Mama always makes sure we have a bowl of cold, fresh water, but sometimes when it's hot out, we don't always drink as much as Mama thinks we should. She works hard to make sure we want to lap up enough water to keep us healthy. We know that pretty much every dog owner's go to for fluids on a hot day is chicken stock, but to be honest, I'm not a fan. Here at Casa de Kolchak, we make our own chicken stock. It's a hassle, but the thing is, store bought chicken stock isn't dog safe. You would think that chicken stock is just chicken-y water, but it's not. All of the commercial stocks available at our grocery store have onion in them and every dog owner knows that's a major no no. So what can you do instead?
Tasty Ways to Help Your Dog Stay Hydrated
How to make flavoured water for dogs:
1. Canned food cocktails – Our favourite (and easiest) trick is to mix a tbsp. of your dog's favourite canned food with 16 oz. of water. Whisk it until the chunks are gone (or even easier, use a shaker cup. Those babies are magic.)
2. Pupsicle Mixes: not just for freezing – There are a lot of premade mixes out there, designed to make tasty frozen treats for dogs, but they don't have to be frozen. For dogs that are chicken -tolerant try Honest Kitchen Ice Pups. Pups with allergies and food interances will prefer Freezy Pup treat mixes, which come in four different flavours.
3. Liver dust – Remember when we told you about these awesome liver grinders? Liver dust makes a great addition to your pups water bowl. Simply grind a fine layer over the water and watch them lap it up. Felix thinks it's better than gold dust.

4. Peanut butter addicts unite! Did you know that peanut butter powder is a thing? Um yeah…awesome. Simply take a 1/2 tsp. of peanut butter powder and whisk it into your dog's water. Just make sure you watch how often you do this – peanut butter, especially dehydrated peanut butter, can be really calorie intense.
In my experience, Casa de Kolchak dogs lap this up pretty darn quickly, but if your dog wasn't as excited, I would pick up the bowl and put it in the fridge between servings. Make sure your dog always has access to fresh plain water as well, since dogs are built to enjoy water and some will actually prefer it plain!
What is your dog's favourite flavour? Could you use it to entice them to drink more in the summer heat?
______________________________________________________________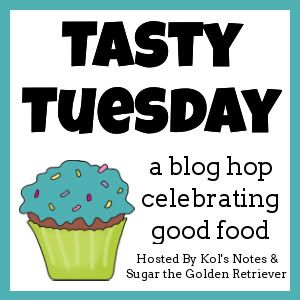 It's Tasty Tuesday!
To join in, follow your hosts, Kol's Notes & Sugar the Golden Retriever, grab the badge from our Tasty Tuesday page and add your link to this week's hop!
Comments
comments