3:36 AM, Saturday Night
The sound of a puggle retching jolts me awake. My poor boy wasn't feeling well. As if that wasn't bad enough, in true puggle fashion, he chose to wretch, move, wretch, move again and then wretch leaving me groggy, bleary eyed and facing three piles of dark vomit on my pale beige carpet. Thanks a heap, Kolchak.
Vomit waits for no one.
As tempted as I was to pull a Big Daddy, toss a newspaper over it and pretend it never happened, it wasn't really an option. Not only would I rather not stain the carpet in my rental apartment, the scent of dog wretch isn't exactly a pleasant odor. I knew I was going to have to pull up my big girl panties and deal with this. Luckily, I have synthetic fibre carpets, because I have NO IDEA how to clean high end wool carpets. I suspect if you can afford those, maybe you just call the carpet guy?
There are tons of "pet friendly" enzyme cleaners and oxygen cleaners and "bleach alternatives" out there, but I'm not wholly comfortable using any of them. They may be safe and they probably work, but if I can't pronounce the ingredients in them, I don't want to use them. Natural is better at Casa de Kolchak. I have a tried and true carpet cleaning method that I use any time I get a little spilly – or one of the dogs decides to upchuck all over the place.
I have a three step, fool-proof system to make sure stains get the boot.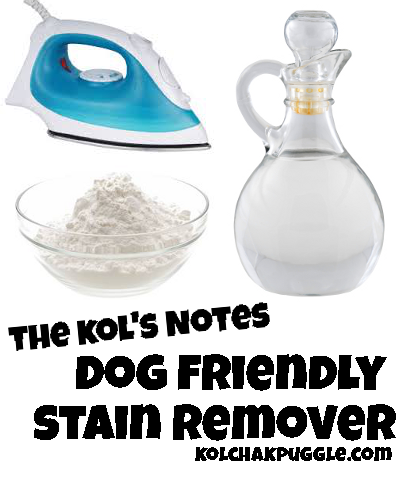 Step one: Eliminate the stain causing problem. For me, that mean picking up the :gag: chunky pieces and using paper towel to carefully blot up any excess liquid. BLOT, do not under any circumstance rub. Just don't do it. Don't make me tell you again.

Step two: Liberally cover the stain with baking soda and allow it to soak up any remaining moisture (and odor, bonus!). Vaccuum up the baking soda. (If you live in an apartment and it's the middle of the night, your neighbours will probably appreciate if you wait until the morning. They're fussy like that.)
Step three: If any colour or odour remains, vinegar will nix it. Mix 1 part vinegar to 3 parts water and put it in a spray bottle. Spray the stain until it is completely saturated, but not soaked in vinegar. Allow to sit for 5 minutes. Place an old white, slightly damp towel over the stain. Heat the iron to the steam setting and apply to the stain, ironing until the stain has been removed. Kol's Note: You'll probably burn the heck out of the towel doing this, but afterwards, the stain should be gone.
I know what you're thinking: "Is a carpet that smells like salt & vinegar chips any better than dog yak?" Well, no.  I'm not saying the vinegar smells great, but I pinky promise, the smell goes away as soon as the vinegar dries completely.
How do you deal with pet stains?
Comments
comments