Back when I adopted Felix, I didn't know anything.
Back then, there were no good treats or bad treats, there were just treats. Felix ate a lot of things I would never imagine giving to him now. He ate a lot of things that I thank my lucky stars didn't make him very , very sick.

We adopted him just a few weeks before the great pet food recall of 2007. As a new dog owner, I was understandably freaked out when almost everything in my house was recalled. You can understand why I panicked when Felix got sick, vomitting a yellow foam. (Holy woof, I sure talk about vomit a lot lately, don't I?)
These days we know better. Treats can be scary – you have to know that what you're feeding your dog is safe.
Jerky treats have always been one of Felix's favourite treats, but with jerky treats making dogs very, very sick, I just don't trust them anymore. When even the FDA is saying that Chinese made jerky treats are dangerous, you know it's time to take notice.
Too many brands are made in China. Still more say they are a "Product of the US", but they're made using Chinese ingredients. It's scary and I'm not taking any chances with my dog's health and safety.
Not when jerky treats are so darn easy to make at home – you can even add fun flavours to make your chewies extra special.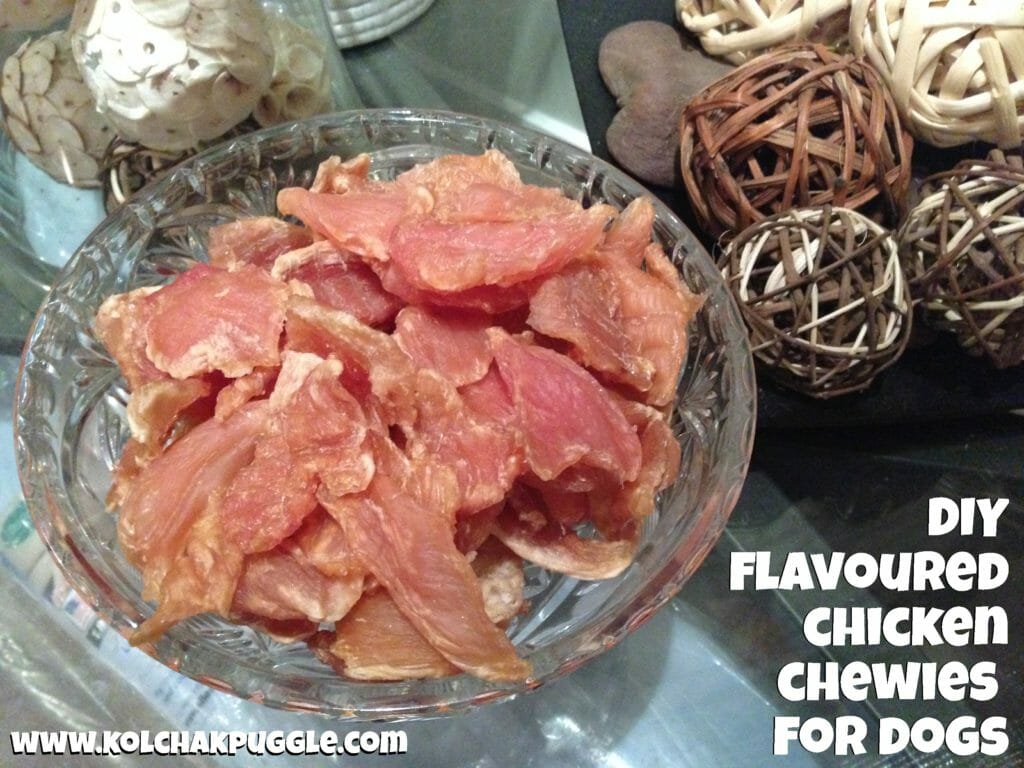 Now, I'm sure if you asked my dogs, they would tell you that chicken jerky treats in any flavour are pretty woofing awesome, but with the holidays coming, a gift set of flavoured jerkies just might be a nice gift for the furry friends in your life, don't you think?
DIY Flavoured Chicken Chews for Dogs
Ingredients:
3 lbs. chicken breast chunks (or thinly sliced chicken breast)
optional: flavour marinades such as:
2 c. unsweetened pineapple juice, 2 tbsp. finely chopped fresh ginger + 1 c. finely chopped cilantro
or
1 c. apple cider vinegar, 1 c. unsweetened apple juice + 2 tbsp. finely chopped rosemary
or
1 1/2 c. water, 1/2 c. honey + 2 tbsp. finely chopped fresh basil
or
1 1/2 c water, 1/2 c. maple syrup + 2 tbsp. finely chopped thyme
or
2 c. water + 1 packet cheese flavoured Freezy Pups mix
Instructions
Whisk together marinade ingredients of your choice.
Place chicken in a shallow dish or plastic bag and cover with marinade. Place in fridge and marinate 12 - 24 hours.
Preheat oven to 425F.
Line baking trays with parchment paper. Lay out chicken pieces on the trays. Bake chicken 15 minutes or until cooked through.
Oven Method:
Reduce heat to 200F and slow cook for 3 -12 hours, flipping occasionally until jerky is dry.
Dehydrator Method:
Place chicken chunks onto dehydrator trays. Set to the HIGH or MEAT setting. Dehydrate for 2 - 12 hours, no flipping necessary, until jerky is dry
Cut a piece in half to test for doneness. Jerky is dry when there is no moisture in the centre of the treat and it is the same colour throughout.
Does your dog have a favourite treat that you won't buy anymore?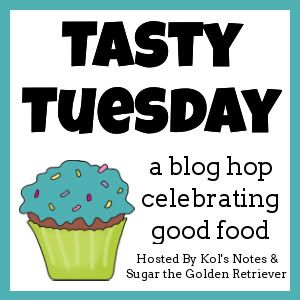 This is a blog hop!  
Every week, we invite you to link up your Tastiest Post and Hop On to discover all sorts of new treats recipes, great giveaways and more!
To join in, follow your hosts, Kol's Notes &  Sugar the Golden Retriever, grab the badge from our sidebar and add your link to this week's hop!



Comments
comments