As a member of the Etsy affiliate program and an Amazon Associate, I earn from qualifying purchases.
When I was a kid, there was nothing quite as exciting as picking out Valentines.
I loved roaming the store and looking at every single one. To this day, I love wandering the Pinterest looking at all the smokin' cool Valentines kids have these days. Man, when I was a kid? There was 12 different Valentines and no matter how hard you tried, it was pretty much guaranteed that some girl at school would have the same ones, only hers would have glitter and therefore be infinitely cooler.
I wanted to try to recapture some of that ol' Valentines magic.
The only problem? I have no tiny humans to make Valentines for and I'm pretty sure giving your coworkers Valentine is maybe unprofessional and possibly borderline creepy? So, somewhere in my head, I thought "you know what would be less creepy?"
Valentines for Dogs
I always loved getting sweet Valentine Candy treats and we all know Kolchak loves getting treats of any kind. My goal was to make a special Valentines Day treat just for my furry friends.
Whether you want to say Thank You to the folks at your doggy daycare, show your dog park pals that you are grateful for their friendship or even just have a bit of fun with your own dogs, these Valentines are an adorable way to say you care.
Not pictured: "I'm not CHICKEN to ask you to be my Valentine" for giving with chicken chews, chicken treats or a rubber chicken toy and "No BONES about it, I want you to be my Valentine" for giving Nylabones or other toy bones, raw or smoked bone chews or done bone baked treats.
*squeeeee* I know right? This is another one of those big changes Ihinted about in my Pet Blogger Challenge post. We're going to be sharing the printable versions of some of our favourite projects, easy ready to print versions of our favourite Doggy Scrapbook pages (like this Live Love Bark page) and more!
You guys have been here since the beginning. So even though I want to start selling some of our stuff, I promise to keep bringing you guys all sort of fun, no charge. Pinky Promise (or would that be Dew Claw Swear in dog speak??)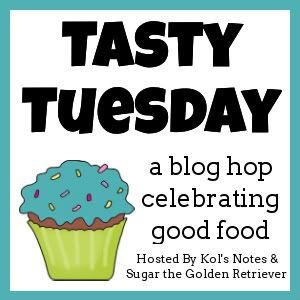 This is a blog hop!
Every week, we invite you to link up your Tastiest Post and Hop On to discover all sorts of new treats recipes, great giveaways and more!
To join in, follow your hosts, Kol's Notes & Sugar the Golden Retriever, grab the badge from our sidebar and add your link to this week's hop!