As a member of the Etsy affiliate program and an Amazon Associate, I earn from qualifying purchases.
Yesterday was Felix's Gotcha Day.
Seven years. I can't believe that it's already been seven years. After my super sentimental birthday letter was done, Felix got a new toy, this super awesome, ridiculously soft stuffed frog which I have christened Frogger and then, it was time for cake! If you ask me, the best part of any celebration is the cake. Too bad there was no way that I was going to sneak a bite of this one.
I made Felix a Pheasant Cake.
I'm not going to lie you guys…HE LOVED IT.
I love it too because even though making his Gotcha Day really special was super important to me, I was a little slammed for time this week. Our new canned food cake recipe for dogs is quick and easy. It's got that meaty taste Felix loves with none of the fuss. We used a 96% Pheasant dog food as our base, but you could use any meat you like – just stick to the ones that are 90%+ meat – none of the stuff with grain, potatoes or other stuff as fillers.
Easy Canned Food Cake Recipe for Dogs
Ingredients:
1 - 13 oz. can of 95% meat (or more) canned dog food
1 1/2 c. Bob's Red Mill Gluten Free Flour + 1/2 tsp. guar gum (or regular white flour)
1 medium ripe banana
1/4 c. water
1 tbsp. coconut oil, melted
1/2 tsp. baking powder
Instructions
Preheat oven to 300F. Prepare silicone mini cupcake liners or silicone bundt cake pans.
Mash banana with a fork until smooth. Stir in canned food, melted coconut oil and water. In a separate bowl, mix together flour, guar gum and baking powder. Add flour mix a little at a time to the wet ingredients, until you have a thick paste. (It should be too thick to pour, but not thick enough to handle with your hands unless you really like to get gooey.)
Scoop the mix into your silicone moulds. In order for the cake to bake through, each should hold not more than three tablespoons of batter.
Bake for 25 - 35 minutes. Remove from oven and allow to cool completely. If you used a bundt cake pan, you can pipe canned food into the hollow space.
Store in the refrigerator for 2 - 3 days only or freeze for up to three months.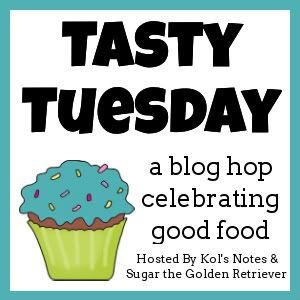 This is a blog hop!  
Every week, we invite you to link up your Tastiest Post and Hop On to discover all sorts of new treats recipes, great giveaways and more!
To join in, follow your hosts, Kol's Notes &  Sugar the Golden Retriever, grab the badge from our sidebar and add your link to this week's hop!