As a member of the Etsy affiliate program and an Amazon Associate, I earn from qualifying purchases.
Crafting with kids can be so much fun, but it can also be really messy and complicated. This easy DIY Dog Treat Jar project uses no glue, is easy for even the littlest crafter and looks adorable. It's a great project for pint sized dog lovers, as a gift to welcome a new dog or as a fun way to involve little ones in the care of the family dog.
• • •
There's a new pup in the Casa de Kolchak family!
Well, kind of. I mean, he's sure not living here and he's not a close relative, but look at how darn cute he is? How could I not want to claim him as a part of the family? He's adoraballs! Look at those eyes! Besides, dogs have second cousins…right?
We knew we wanted to do a fun project to welcome Frank to fam, but we wanted to make sure it was a kid friendly craft, since Frank has a pair of little humans to love and adore him now. (All pugs should be so lucky, eh?) We knew that we had found exactly the thing, when we saw this on the Biskit's Barkery Facebook page: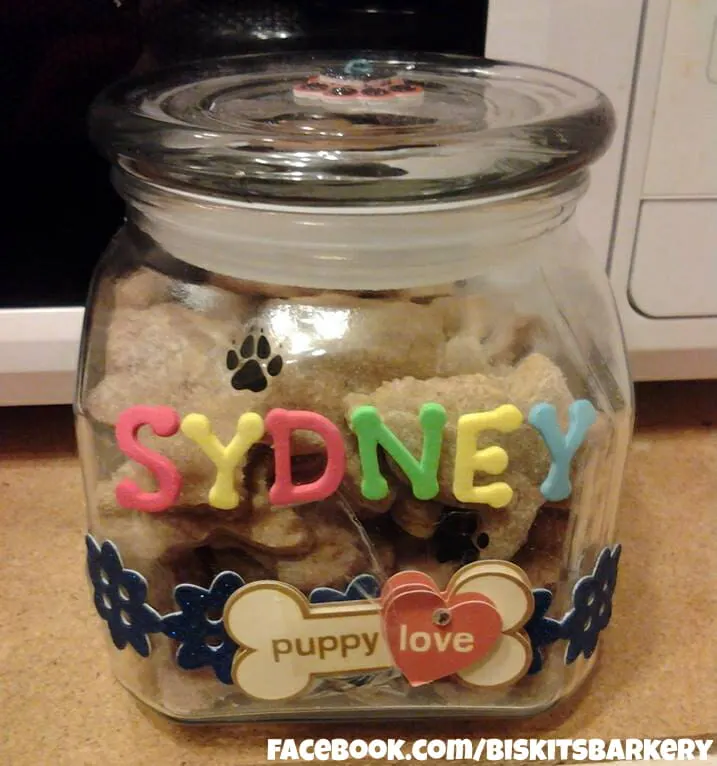 Holy woof, how cute is that?
It was made by our friend Jodi, at a dog friendly party she went to last summer using stick on letters, stickers and scrapbooking embellishments with glue. She said the hardest pat was making it while her dog Sydney pulled on the leash and her 2 year old daughter tried to eat the craft supplies! If she said it was easy while fighting those battles, imagine how eay it is without challenges! I knew that with a couple small changes (to eliminate the glue), these homemade dog treat jars could make an super easy, no mess craft for kids (or even for grown ups who don't feel particularly crafty).
Here's what you need to help your kid's make this easy DIY Dog Treat Jar:
Glass Jar
Washi Tape
Sticker Letters
Dog – theme stickers
We love us some bling, so we picked up the little stick 'em jewels too
Treats
The key to making this craft easy and minimizing the mess is choosing embellishments that are already sticky, so you don't have to use glue and battle sticky hands.
Once you have your supplies, the sky is the limit! Frank's kids, AK and M-B did a fabulous job decorating custom treat jars for their Frank and for little cousin Luda too. They wrapped the Washi tape around the jars to create a pretty border, embellished the jars with adorable stickers and finished the jars off with Frank and Luda's names. I think they had fun doing it too!
My favourite part? These girl's know what's what! Instead of filling their treat jar with fattening cookies or expensive store bought snacks, they headed to the fridge and sliced up a green pepper.
<3 These are girls after my own heart. Aren't they the sweetest?? I'm so grateful the took time out of their busy day to help make this project and share it. Thank You AK & M-B!
Have you ever made a dog treat jar for your dog? How did it turn out?
Share your pictures in the comments and you might be featured on our Facebook page!
Major thanks to Jodi Warren Uhron and Sidney for sharing their treat jar and to Gretchen at Biskit's Barkery for designing the project. You guys inspired a great afternoon of fun and crafting!