As a member of the Etsy affiliate program and an Amazon Associate, I earn from qualifying purchases.
This recipe for fruit and veggies leather dehydrator dogs treats is so easy to make, totally customizable to you and your dog's favourite flavours and it's tasty way to sneak some added healthy foods into your dog's diet.
* * *
Back in the day, I used to give my dogs a lot of soft jerky treats.
You know the treats I mean, you guys. The ones with the cartoon dogs on the bag and the bright red colour where you get around a billion treats for like $2.35? The JUNKIEST of the junk food kind. In my defence, I didn't know any better. Then, for a while after that, I though "It's only a few bites – how bad can it be?" Eventually, I came around to the way I feel now. I want to give my dogs the best, so whether it's a treat or their every day meals, I never want to be giving them products filled with mystery meat, artificial flavours or a bunch of preservatives.
This dehydrator dog treat recipe, submitted by Heather of OK Collars, is the perfect way to create a softer style treat without compromising on quality.
We absolutely LOVE it when you guys share your own favourite treats with us and as soon as I saw how good these turned out, I just had to ask Heather if I could share the recipe with you guys too. I'm not going to lie, I'm more than a little temped to steal a few pieces of this fruit and veggie leather for myself.
Have you ever made fruit and veggie leather dehydrator dog treats?
What flavours do you think your dog would love. Any other flavour combos to suggest?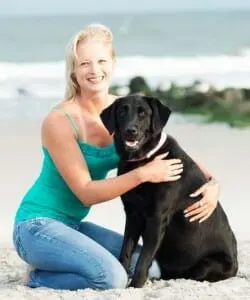 Heather Buzby is the talented lady behind OK Collars offering handmade, custom collars to pretty up your dog and show off their personality. Her dogs, Kayla Dover and ellie Mae, are spoiled rotten, totally adorable and so lucky to have a human who makes such tasty treats. Head over to Facebook to see all her adorable creations.
Like OK Collars on Facebook: