If there's one thing that we all love at Casa de Kolchak, it's cheese.
We're fiends, the whole lot of us. I am constantly trying new cheeses in my quest to taste them all and often, if my pups are woofing lucky, I share. In fact, I love turning some of the tastiest cheeses I try into cheese dog treat recipes for Koly & Fe. One of favourite recipes is a gluten free dog treat recipe that everyone, humans and dogs alike enjoy.
This week, we made ours with Parrano cheese, a tasty smooth, creamy cheese that is like a cross between Dutch Gouda and sharp Parmesan. It was heavenly and it almost killed me to share it, but I did because I am a giver that way. 
These gluten free dog treats can be made with any type of cheese you like.
 Easy, Gluten Free Cheese Dog Treat Recipe
The Stuff (aka Ingredients)
2 cups, finely shredded cheese
2 cups Bob's Red Mill Gluten Free Baking Mix
2 eggs
2 tbsp. coconut oil
2 tbsp. water or chicken stock
optional: Natural, dog friendly food colouring (like India Tree Colours)
How We Do It (Instructions)
Pre-heat oven to 325.
In a medium bowl, beat together egg and coconut oil. Add cheese and mix thoroughly. Stir in flour a little at a time, adding water or chicken stock as necessary to create a smooth dough.
If desired, split the dough into separate balls and work in colours. Try to work as quickly as you can. Over working doughs made with bean flours can result in one tough cookie ;0)
Roll out dough to ~1/4″ thick and cut into shapes with a cookie cutter (or squares using a pizza cutter).
Place cookies on a parchment lined cookie sheet. (For a flat treat that does not puff up, poke a few holes in each with a toothpick or a dough docker.) Bake for 20 – 30 minutes, until golden brown on the bottom and cooked through. If desired, turn oven to lowest setting and leave cookies for 2 – 3hours for a crunchier cookie.
These treats were the perfect pairing to go with some yummy human food at our recent Dog Friendly Picnic! 
We're sharing all our favourite picnic finds over on our Pinterest page – check it out!
Do you share cheese with your dog? What is your favourite kind?
Do you want to plan a dog friendly picnic?
We're spilling our picnic planning secrets and giving away a picnic basket filled with swag for dogs and dog lovers – check it out! (<–sponsored post)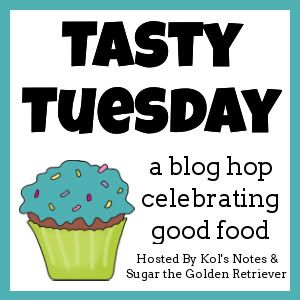 This is a blog hop!  
Every week, we invite you to link up your Tastiest Post and Hop On to discover all sorts of new treats recipes, great giveaways and more!
To join in, follow your hosts, Kol's Notes &  Sugar the Golden Retriever, grab the badge from our sidebar and add your link to this week's hop!

Kol's Note: While we are sharing a sponsored post & giveaway later this week featuring Parrano Cheese, we created this recipe all on our own, using cheese we bought with our own kibbles. 
Comments
comments