These salmon and sweet potato treats are easy to break apart, soft to chew and perfect for dogs who are in training or senior pups who might not love crunchy treats anymore.
Here's What You Need:
1 can salmon
1 medium sweet potato, baked in the skin
2 eggs
1/3 c. coconut flour
Coconut oil for greasing a pan
Preheat oven to 300F.
In a medium bowl, stir together coconut flour, eggs and salmon. Allow the mix to "rest" for 10 minutes while the coconut soaks up the moisture. Remove the sweet potato from the skin and stir into the salmon mixture.
Grease a 9×9 cake pan or 9″ pie plate with coconut oil.
Press mix into the pan.
Bake for 60 – 70 minutes
Allow to cool and slice into squares. If you want a crunchy treat, you can return the squares to the oven on a baking sheet and bake at 150 for 3 -4 hours.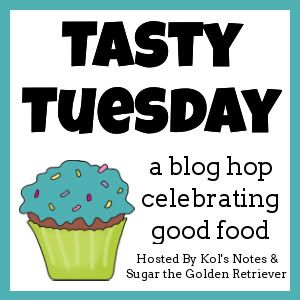 This is a blog hop!  
Every week, we invite you to link up your Tastiest Post and Hop On to discover all sorts of new treats recipes, great giveaways and more!
To join in, follow your hosts, Kol's Notes &  Sugar the Golden Retriever, grab the badge from our sidebar and add your link to this week's hop!
If you liked this, then you'll probs like these too:
Comments
comments