As a member of the Etsy affiliate program and an Amazon Associate, I earn from qualifying purchases.
This is our first year in an apartment and I am on a quest to create the perfect dog friendly deck for the pups and I. So far, we've banished the bugs and create some cool shady spots for the dogs to chill out (though Felix still insists on laying in the sun. Dude, you're wearing black. Aren't you HOT?)
We've been planting all of our favourite dog friendly patio plants (check them out on Pinterest), we've got a couple fun DIY projects to share with you and Koly has found the perfect outdoor dog bed. (Holy woof you guys, it's even neon!) Just in case you missed anything up until now, you can find it all here: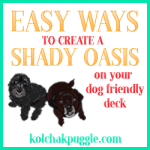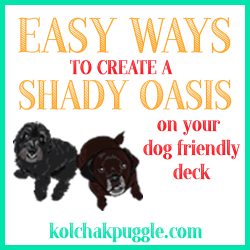 When it's hot out, it can be tough to keep your dog's water bowl fresh and cool without refilling it 9 billion times per day.
We've got you covered for a couple fun ways to keep the water cool and entice your dog to drink more.
Ok, you guys, I know that the half the interwebs and most of Facebook has their tail in a bunch about how dangerous ice can be for your dog. People way smarter than me, like for example, Jen at My Brown Newfies who has a background in veterinary care, have written about the issue and dispelled it as a myth. (
Read Jen's full post here
.) I like to use ice to keep my dog's water bowl cold longer. Ice cubes are all well and good, but I find they melt away quickly.
One of my favourite tricks is to create an "ice bowl". Since this is a much larger chunk of ice, it melts slower, keeping your dog's water bowl cold longer.
Our favourite ice bowls are made with something tasty, like onion free chicken stock or one of our flavoured water for dogs recipes. Felix isn't the best drinker in the first place, but as the day gets hotter, he tends to drink less and less. We love making flavoured ice bowls because the water continues to get more flavourful as it melts, enticing your dog to keep coming back for more. (Kol's Note: If your dog is a great drinker, you may want to skip this flavour addition. Drinking too much water can be just as dangerous as not drinking enough.)
How to make a flavoured ice bowl for dogs:
Get two metal bowls on different sizes (I used the largest and the smallest bowl from
a set like this one
<–Affiliate Link) Pour a small amount of water into the bottom of the larger bowl and whisk in any flavour enhancers you want to add. (They look super cool if you throw treats in there!) Place the smaller bowl inside the larger one and use masking tape to ensure the rims stay even. Fill the gap between the bowls with water and freeze overnight.
These flavoured ice bowls are a big hit at parties and make a fun "host" gift to bring the resident canine at dog friendly barbeques.
Want to get even easier? You don't have to make these bowl shaped. Fill the bowl half full of water. Add flavour, if desired. Freeze. In the morning, add fresh cold water to fill the rest of the bowl and serve.
As much as we love these ice bowls, we know they're not the best solution for everyone.
They take up a ton of room in the freezer and not everyone has space for that. Plus, if your dog is older or they have some iffy teeth, it is possible to crack a tooth on ice. For dogs like that, our next tip might work better.
Cool the bowl without giving your dog ice.
If you're worried about giving your dog ice to eat, you can still use it to chill the bowl. I found the coolest DIY project over on Pinterest! Did you know that you can use a metal mixing bowl and your favourite planter to make an attractive raised bowl for your dog? I know right? I was amazed! I'm searching for the perfect planter to create a bowl for the boys on our deck.
The hidden benefit of a bowl like this? You can grab a bag of ice from the corner store, fill the planter with it, then sit your dog's bowl on top. It's perfect if you don't have the freezer space to make a frozen bowl for your dog or if you don't want your dog chewing on ice.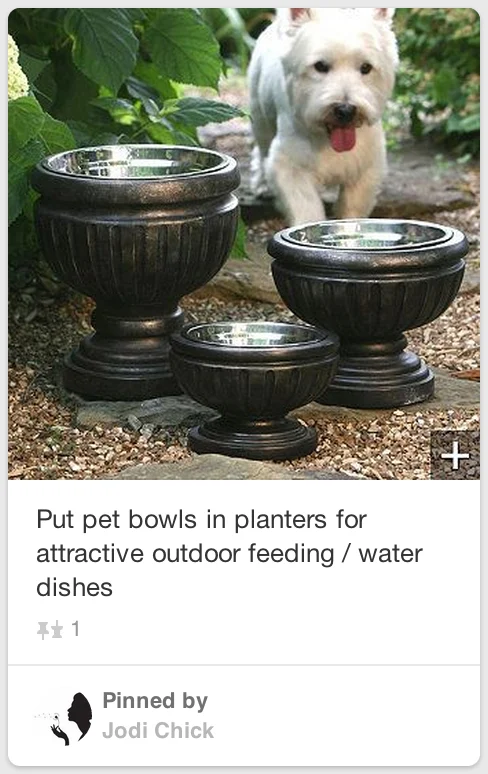 How do you keep your dog's bowl cool on a hot day?