As a member of the Etsy affiliate program and an Amazon Associate, I earn from qualifying purchases.
I almost feel bad calling today's post a "DIY Tutorial". I don't think I have ever made anything easier. I'm pretty sure projects this easy are cheating, but this one is for all those DIY-Lovers-at-Heart who see all our regular how to posts and think "I can"t do that". YOU CAN DO THIS. Anyone can make these ridiculously easy DIY Dog Collar accessories. Anyone.
There is a little dog in our building that has the most fabulous collars.
I could try my whole life and I don't think I could ever be as fabulous as this dog. She has a collar for every day of the week and extras for holidays and special occasions. She has baubles and beads and flowers and more. She is better dressed than 95% of the dogs I know and 100% of the people.
Dog Collar Accessories are a great way to dress up your dog's every day collar.
Her Mom spends hours hand making bows, baubles and decorations to attach to her collar. They slide on and off easily, with an elastic loop holding them in place.
I saw these awesome dog collar baubles and I thought to myself "I can do that!"
Ha ha, just kidding! I didn't think that at all. I thought "there must be an easier way"…
There is.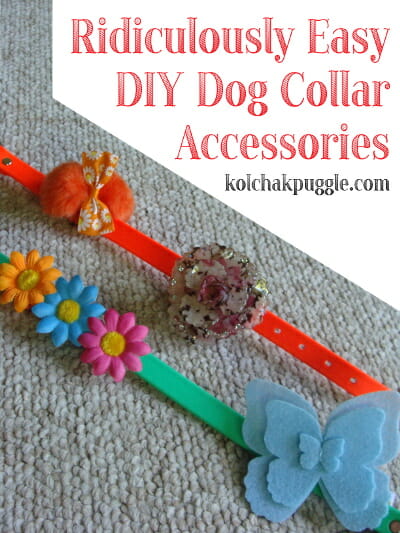 You can make Ridiculously Easy DIY Dog Collar Decorations in two simple steps.
STEP ONE: Head to your local "things little girl's love" shop to purchase hair ties. In this neck of the woods, prime targets are stores like Ardene, Claire's and Icing. You can also find some super beautiful ones on Etsy. These days, you can find little girl's hairties decorated with anything your heart desires.
STEP TWO: Twist the elastic 2 – 3 times (until it fits snugly) and slip onto your dog's collar, sliding the decoration to the ideal spot on your dog's neck.
That's it you guys. It's legit that easy. I have no idea why I never thought of this before. It almost makes me want to get a little girl dog… and it really make Koly want me to get a girl dog because I made him model our collar decor for you. (Holy woof, you have no idea how many treats it took to talk him into this.)
To create this look, I used three floral hair ties that I bought for $1.
Kol loved it so much that he wouldn't even look at the camera.
Want a little bling?
This bedazzled star hair tie is the perfect fit for the canine rockstar in your life.
(My rockstar looks thrilled right?)
I actually love this flower that I found on a little girl's scrunchie!
It's so elegant and, um….manly. (Gee, I'm so sorry Koly.)
Have you ever dressed up your dog's collar?
Comments
comments