When shared in small, moderate doses peanut can be a nice treat for you and your dog, but not everyone can eat peanuts and they're banned from 90% of anywhere these days. Luckily, there are a few dog friendly alternatives to peanut butter that you can share.
Kol's Note: Nuts can be dangerous for dogs.
The truth is that all nut and seed butters, even peanut butter,  pose a risk to your pet's health if they are given too much or too often. Nuts and seeds are high in fats and calories. They're supposed to be a very small part of your dog's diet – a treat only! For example, our peanut & pumpkin dog have just over 1/2 tsp. (0.66 tsp, to be exact) of peanut butter per cookie. That's around 24 calories and almost 2 grams of fat before you add a single other ingredient. When a treat packs that kind of nutritional punch your dog should only be having one, no matter how much they beg.
You guys are good folks though, so I trust you to make the healthy choice and only give nut and seed butters in moderation and to choose plain butters with no added sugars, salt or other stuff. I like my butters to have one or two ingredients, MAX. Be cautious – I only use nut butters and never whole nuts, as whole nuts pose a choking and intestinal blockage risk, plus, they're tough for dogs to digest. Dogs with pancreatitis or other conditions requiring a low fat diet should not eat nut or seed butters.
All that being said, my dogs love peanut butter. 
It's one of those few things that dries them absolutely wild. No matter what I'm asking of them, be it to sit still while I clip nails or to not act like a spaz in the tub, they will do almost anything for a taste of the good stuff. The only problem? Not everyone can have peanut butter and there are a whole lot of places that you can't take peanut butter. For example, I wouldn't take peanut butter to a kid's park or a school.
So whether you're trying to avoid peanut or just expand yours and your dogs foodie tastes, here are a few dog friendly alternatives to peanut butter that you can safely share with your pups.
All of these options have similar calories and fat content to peanut butter and should be fed with the same level of caution as peanut butter.
Almond Butter (95 calories | 8 g. fat per tbsp)
Cashew Butter  (95 calories | 7.5 g. of fat per tbsp)
Sunflower Seed Butter (90 calories | 6 g. fat per tbsp)
Sesame Seed Butter (95 calories | 8.5 g. fat per tbsp)
Pumpkin Seed Butter ( 80 calories | 7.5 g. fat per tbsp)
Has your dog ever had a butter other than peanut butter?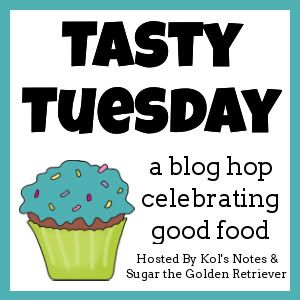 This is a blog hop!  
Every week, we invite you to link up your Tastiest Post and Hop On to discover all sorts of new treats recipes, great giveaways and more!
To join in, follow your hosts, Kol's Notes &  Sugar the Golden Retriever, grab the badge from our sidebar and add your link to this week's hop!
Comments
comments