As a member of the Etsy affiliate program and an Amazon Associate, I earn from qualifying purchases.
Yesterday we shared a picture of the little outdoor oasis I share with the dogs.
In case you missed it, you can check it out here. This is our first year without a yard and so I've gone out of my way to create a great dog-friendly space for me and the dogs to share. The deck is pretty much finished and we're already spending a bunch of time out there.
It only needs a couple things before it's DONE: Toy storage and a place to prop up my feet.
Felix has this wretched habit of trying to drag every woofing toy he owns out onto the deck. I hate this. I get that he just wants to kick it with Dirty Stinky Yak on his fav outdoor dog bed, but the thing is, he doesn't just bring his toys out there, he leaves them out there. Then they get ruined and somehow, this is my fault.
To combat this, we have designated outdoor toys and indoor toys.
Our outdoor toys are great and they're made to stand up to the elements. These are just a few of Fe's favourites.
Click on any image to buy it on Amazon (affiliate links)
Just like in the house though, I hate having toys everywhere. I hate tripping on them, I hate stepping on them and I hate the feeling like there is mess everywhere. I knew I needed a storage solution for the deck, but in such a small space, I needed something that could do double duty.
I was thrilled when I found this tutorial for how to make your own storage ottoman using a galvanized pail!

Holy woof, how cute is that? I have a few tubs like this with flowers in them on my deck, so it's a great tie in to match my decor, it's ridiculously easy. (Seriously, I couldn't even believe how easy) and I love that it can be both outdoor dog toy storage and a sweet spot to kick up my feet while I read.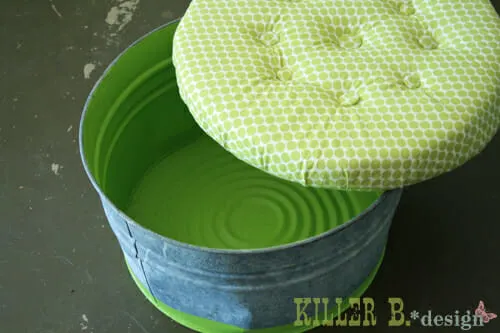 Plus, I found the CUTEST tubs, lacquered in bright greens or blues or pinks, on sale, at Target. Jackpot. I plan to use the tub and some water resistant fabric to make myself the cutest DIY Outdoor Dog Toy Storage & Ottoman.
Do you want to make one of your own?
How do you store your outdoor dog toys?