As a member of the Etsy affiliate program and an Amazon Associate, I earn from qualifying purchases.
Sometimes when it's hot out, I'm too tired and lazy to do much of anything expect lay in front of the fan. These ridiculous easy frozen dog treats are easy enough for anyone (and I mean ANYONE) to make and the dogs love them. They're also great for dogs with allergies or dietary restrictions.
Easy Canned Food Frozen Dog Treats
Ingredients:
1 - 13 oz. can dog food of your choice. We prefer the premium varieties that are grain-free with lots of meat!
2 medium plastic freezer bag
That's. It.
Instructions
Spoon the canned food into your plastic bags splitting it into two equal portions.
Press out the extra air and seal the bag. Lay the bag flat and use your hands to press the food into an even(ish) layer.
Lay flat in the freezer and freeze for 20 - 30 minutes, until slight firm, but still pliable. Using a shish kabob skewer, a spatula or the back of a butter knife, press lines into the canned food, creating a pattern of evenly spaces squares on the surface of the food.
Return the bag to the freezer until frozen solid. Once frozen, gently snap into bite sized pieces that are easy to pull out and give to your dog, no fuss/no muss.
Sometimes Koly and Fe think the simplest treats are the best. You don't have to buy fancy dog ice creams or bake crazy treats to share a healthy frozen dog treat with your favourite Fido.
These canned food frozen dog treats are super easy and your dog will love them.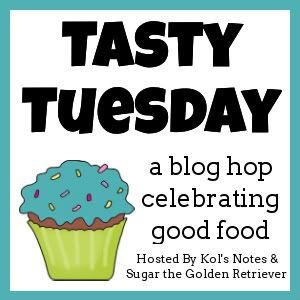 This is a blog hop!  
Every week, we invite you to link up your Tastiest Post and Hop On to discover all sorts of new treats recipes, great giveaways and more!
To join in, follow your hosts, Kol's Notes &  Sugar the Golden Retriever, grab the badge from our sidebar and add your link to this week's hop!