As a member of the Etsy affiliate program and an Amazon Associate, I earn from qualifying purchases.
Unless otherwise noted, Kol's Notes does not endorse or recommend any of the treats featured on this list – in fact, we haven't even tried them all. There's just too many!
I don't know what the weather is like at your house, but here at Casa de Kolchak, it's Fall. You know what that means, right?
IT'S TIME TO PUMPKIN ALL THE THINGS.
Summer is my favourite season, but there's something about the flavours of Fall that just makes me want to curl up on the couch, snuggle a puggle and chillax. Pumpkin, Maple, Apple, Sweet Potato, Cranberry. I love them all.
You guys, I'm a stereotype and I don't even care.
I've already had my first Pumpkin Spice Latte of the season and the dogs are ready to get in on the Fall flavoured fun too. It's still a squitch too hot to start baking though, so I'm compiling the ultimate list of Fall Flavoured dog treats.
And now with no further ado and in no particular order, 40+ Fall Flavoured Treats for Dogs

These soft, chewy grain free treats are made in Canada, eh! Rumour on the street is that they are soft enough to break in half making them great for training and that they are perfect to mold around a pill too.

These crunchy cranberry dog treats have no wheat, corn, soy, dairy or meat making them a great choice for pups with allergies. Plus, flax seed is legit good for you and your dog.

These wheat free, preservative-free treats are low in fat, but high in flavour (and I love that they're called pumpkin spice.)
You guys, I can't even with how good these sound. Sweet potato and pecan is one of my favourite flavour combinations. You can bet your boots that I ordered these for Koly and Fe.
These made is the US crunchy treats free from wheat, corn, soy, meat products, egg, dairy, salt, sugar and preservatives, but full of creamy peanut butter and just a hint of maple.

First of all, these look like Teddy Grahams which makes them ADORABLE. Second of all, they're made with 100% human grade ingredients which is pretty cool.

Aside from being incredibly adorable, these dog-friendly pies are actually crunchy dog treats decorated with carob and dried apple. Plus, these have the Kolchak Puggle paw of approval as totally drool worthy.
8. Cloudstar Wag More, Bark Less Pumpkin Pie Treats

The goodness of pumpkin mixed with maple syrup, vanilla, cinnamon and ginger make these US made crunchy treats a win.

Back in the day, Koly learned a whole lot of tricks with gobbling down Charlee Bear Treats. These tiny, less than bite size grain free treats are perfect for training.
9. Nature's Variety Turkey Meal and Pumpkin Limited Ingredient Treats

When you have a dog with allergies, you LIVE for treats like these which have no grain, no gluten, no potato, no dairy, no chicken, no beef, no fish and no eggs.

I love when a treat also supports good health. These grain free treats are designed to help support a touchy digestive system (read: control gas and stomach issues). Win. Win.

These USDA certified organic treats are made with fragrant cinnamon and ginger, plus they have no corn, wheat, soy, chemicals, preservatives, animal by-products or dairy.
These oven baked crunchy mini treats are made with chicken, apple and carrot and they're the perfect size for frequent treating.
13. EOS Turkey & Pumpkin Dog Snacks

These slow roasted treats are grain free and made from natural, savoury turkey and rich pumpkin.

These low cal baked treats are rich in antioxidants and high in fibre, plus Koly will cut you for one which is kind of amazing considering there's no meat in them!
Felix absolutely adores rabbit and the added flavour of sweet red apple can only make these better.

These grain free treats are kissed with yogurt and pumpkin for a smooth, rich flavour your dog will love.
I'm not a fan of vegetarian diets for dogs AT ALL, but every so often, there is a dog who just can not handle protein. These treats are for them – or any dog, as a part of a balanced, species appropriate diet.
This pumpkin puree comes in a single serving pouch which is perfect for those occasional days when your pooch has a questionable tummy.
These treats certified USDA Organic and made with 100-Percent Organic Human Grade Ingredients.
These itty bitty little treats are perfect for pets watching their waist lines or learning a new trick.

At Casa de Kolchak, we're huge fans of these less than bite sized soft treats. Koly and Fe love them all, but I think the Apple Bacon flavour is their favourite.
These low calorie, vegan dog treats are great for dogs watching their wasitlines.
Zoe Tender Bites are tiny soft & chewy treats, ideal for training and rewarding your dog.
Made with whole what and rolled oat, these wholesome oven baked treats are crunchy and delicious.
These super tiny, soft bite treats are designed with small dogs in mind.
Made with human grade ingredients and heart healthy apple, these crunchy baked treats are just like the one's Grandma used to make. (If your grandma made dog treats, which mine did not.)
These tiny, wheat free treats are perfect for packing up and giving to your doggy friends as a gift!
SCOOT BARS feature fiber in an innovative delivery system designed to address a common concern: The dreaded butt scoot.

These grain and gluten free treats are great for dogs like Felix who can only eat novel proteins.

These bite size grain-free treats are packed full of real meats apples potatoes carrots and antioxidant-rich herbs.
Just add water to this real ice cream mix to create a tasty frozen treat for your dog.
These chews have natural pumpkin flavor and are made with American-sourced duck, plus they're grain free and contain no wheat, corn or soy.
Vibrant cranberry mixes with organic wheat flour to make these tasty, certified kosher dog treats that your dog will love.

These fancy treats are crunchy on the outside, soft on the inside and made with healthy oatmeal, savory bacon and delicious apples.

These natural, oven baked treats have no wheat, corn, soy or artificial flavors, colors or preservatives and they're the perfect bite sized snack.
36. Zukes Skinny Bakes Yogurt and Maple Syrup

These tiny treats are perfect for little mouths – or greedy ones like Kol's who always want more snacks.

Made with greek yogurt, pumpkin, carrot & apple, these freeze dried treats maintain the full nutritional value and potency of each functional ingredient for optimal digestive health.

Mmmmmm, oh Canada, eh? These high quality baked treats are a Casa de Kolchak favourite and one of Cousin Lu's favourite flavours.

Made with smoky bacon and crisp apple to perfection, these bite sized treats are baked with the goodness of oatmeal.
Farm to friend treats made from 100% human grade ingredients with nothing artificial and sourced, produced and packaged in the USA.
Whew! Who wants a snack? What is your dog's favourite fall flavoured dog treat?
Let me know in the comments and I'll add it to the list!
---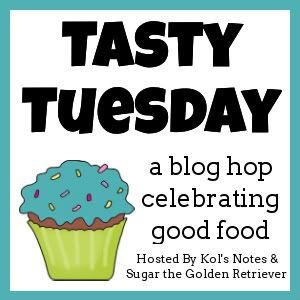 It's Tasty Tuesday!
To join in, follow your hosts, Kol's Notes & Sugar the Golden Retriever, grab the badge from our Tasty Tuesday page and add your link to this week's hop!