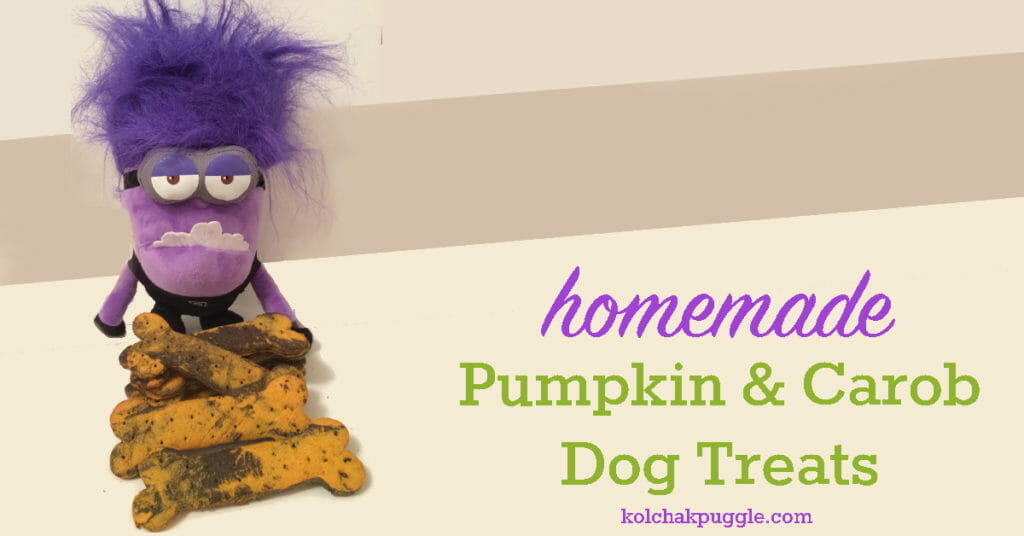 I've been itching to get in the kitchen lately. I don't know if it is the change in weather or that Halloween is one of my very favourite holidays or what. Maybe it's just that I've been working too much much and playing too little. Whatever the reason, this weekend I relished the chance to throw some flour around, get a little messy and create my first new dog treat recipe in as long as I can remember.
Pumpkin all the things!
Y'all know how much I adore a nice pumpkin treat. Pumpkin is also a favourite flavour of both Kolchak and Felix, so I know any pumpkin dog treat recipe is going to be a knock out favourite. Today's recipe does not disappoint. Upon being handed his first cookie, Koly tossed it around, threw it in the air and rolled on it, before trying to hide it in my left arm pit. This is a ritual saved for only his very favourite treats, like bully sticks, so from my sweet puggle boy, this is high praise indeed.
Much like our banana carob marble bones, this recipe looks way fancier than it is. It's actually really, really easy and these treats are so pretty that they make a great gift for dog loving friends. Just tie them together with a bit of bright Halloween coloured ribbon or toss them in a Halloween treat bag and they're perfect to share.
Marbled Pumpkin & Carob Dog Treat Recipe
The Stuff (aka Ingredients)
5 tbsp. + 1 tbsp. canned 100% pure pumpkin puree (not pumpkin pie mix)
2 large eggs
3 tbsp. pure maple syrup or honey
3 tbsp. melted coconut oil or vegetable oil
3 cups Garbanzo Bean/Fava Bean flour, Red Mill Gluten Free Baking Mix or All Purpose Flour
1/2 c. powdered roasted carob
How We Do It (Instructions)
Preheat oven to 350F.
In a medium bowl, whisk together 5 tbsp. of canned pumpkin, 2 eggs, the maple syrup and the coconut oil.
Stir in the flour, a little at a time, until it forms a stiff dough. (Kol's Note: You may not need all of the flour. You might need a little more or a little less, depending on how much moisture is in your canned pumpkin.) You want the dought to be smooth, stiff and non-sticky, but workable. I recommend that you get in there and get messy. Mixing this dough by hand is the fastest and easiest way to get the job done.
Split the dough into three equal portions. Set two aside. Return one portion to your bowl and knead in 1 heaping tbsp. of canned pumpkin and 1/2 c. of powdered carob. (If the dough is too stiff, add a tiny bit more pumpkin. If it's too sticky, add a pinch or two more carob.)
Break all of the dough balls into ~1" balls (no need to be exact). Smoosh all the balls together in a random pattern and knead them together. Try to knead the dough as little as possible! An overworked dough will be tough and the dough will become a solid brown colour if you mix it too much.
Roll out the dough to 1/4" thick and cut out with a cookie cutter (or cut into squares with a pizza cutter or butter knife).
Lay out cookies on a parchment lined baking tray. Using a toothpick or a dough docker, pierce the cookies all over. (Adding holes like this allows the steam to escape and prevents the cookies from bubbling.)
Bake for 15 - 18 minutes, until the bottoms are golden brown and the dough is cooked through. If you like a dry, crunchy cookie, turn the oven down to 150F and allow the cookies to bake for an additional 3 - 4 hours or until cookies break crisp. Remove from oven and allow to cool completely.
What's your dog's favourite fall flavour?
---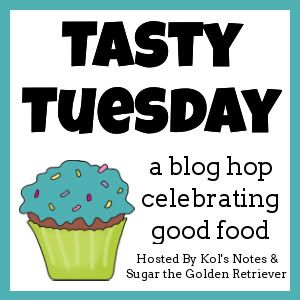 It's Tasty Tuesday!
To join in, follow your hosts, Kol's Notes & Sugar the Golden Retriever, grab the badge from our Tasty Tuesday page and add your link to this week's hop!
If you liked this, then you'll probs like these too:
Comments
comments