---
.
I'm that stereotypical West-Coast, Tree-Huggin', Save the Whales, Love the Planet,
RECYCLE FOR GOODNESS SAKES

Canadian.

I want to be the kind of person that leads a fabulous zero waste pet-friendly life. I'm also kind of ridiculously lazy. I am never going to pick up my dog poop with newspaper and flush it. There's almost no chance that I'm starting a poop composter on the deck of my apartment. It's not realistic for me to create absolutely ZERO waste while still living a good life. But, like most people, the truth is that I could do more.  Probably a lot more. Attending BlogPaws and working as the ambassador to the #ZeroWaste Initiative was a powerful reminder that we can all do more to create less waste, even as we strive to give our pets the very best.
By all measures, the #ZeroWaste Initiative at BlogPaws is an impressive venture.
The conference is multi-day event bringing together experts, bloggers and brands from all corners of the pet world to celebrate the positive impact pet bloggers can have on the world, to learn how to excel at our craft and hob nob with some truly amazing, crazy pet people. It's also a hot spot for wasteful human behaviour. Packaging from vendor booths, workshop and session materials, business cards, media kits, product info sheets and blogger swag. Tons of food to feed a pack of hungry bloggers can also mean a ton of food waste. Too often, all of this becomes trash and ends up at a landfill. We've all seen Wall-e. Sending everything the dump isn't going to end well.
A few years ago, BlogPaws committed to a better way.
Ever since, their goal has been to reduce at much waste as possible at the conference. Partnering with Only Natural Pet and the Pet Sustainability Coalition to get this done, over the course of the conference staff worked hard to ensure attendees recycled where they could, composted whenever possible and made as little trash as possible. This year they were able to divert a whopping 96% of waste from the landfill and send the rest out to be recycled or composted. This astounding achievement is made even more amazing by the fact that the City of Myrtle beach didn't actually HAVE a green waste program in place before BlogPaws asked. Carol Bryant shared more about the #ZeroWaste success in Myrtle Beach on the BlogPaws blog. It's IMPRESSIVE, yo.
Living the Zero Waste Pet Friendly Life doesn't have to be hard.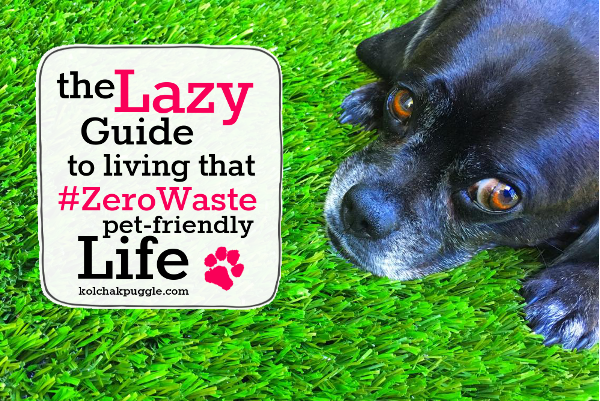 You can make a few simple changes and take a few baby steps towards being better steward for this gorgeous planet we share. This year, I'm working hard to bring the BlogPaws Zero Waste mentality home with me and reduce the things we send from Casa de Kolchak to the landfill.
1. Ditch plastic pet bowls.
There are about a million reasons to avoid plastics for pets ranging from way they harbour bacteria to the way they're often made with low quality toxic additives. Add "terrible for the environment" to the list. Ideally, a stainless steel pet bowl or a glass pet bowl is a much more environmentally friendly choice. We use PawNosh recycled glass pet bowls, which are pricey, but still look as gorgeous as the day we got them despite several years of daily use. That said, you can get a great quality, long lasting stainless steel pet bowl for a really reasonable price tag.
Speaking of fresh, clean water, keep your pet hydrated and refreshed by serving your pet filtered agua from a water filter jug in the fridge and use an insulated drink container for on the go, so you resist the temptation to grab bottled water.
2. Shop smart for pet food & supplies.
Pet food is a hot topic and I'm not here to tell you what brand to buy. There are a lot of brands I love for a lot of different reasons and I am a big advocate for feeding a rotation diet, so I don't have a "favourite". However, when you shop for pet food, there are choices you can make to lessen the impact on the environment.
Consider brands with sustainability programs. There are totally brands out there that have a strong commitment to being Earth friendly. Every brand is different, so check out their website or send their customer service team an email to ask what they're doing to be a friend to the planet.
Look for recyclable packaging and buy the largest bag of food or the biggest supply of supplements you can use before it spoils. Buying the biggest bag that you can use before it spoils means less packaging and less waste. Some brands even participate in a dog food bag recycling program, where the plastic is melted down and used in new ways.
Use less pet food. I know what you're thinking "I can't just "use less". Well, a lot of us could. Pet obesity is a huge problem in North America. Using a measuring cup to serve food means you know they're getting the right serving. You can help Fido slim down and reduce the amount of pet food you use at the same time.
Shop local. Purchase pet foods produced in areas near your home reducing the need to transport product long distances. My dogs are raw feed and when we buy commercial raw pet food, it's all made close to home. (It's also whole animal based, which means very little is wasted.) Chances are there are brands that are more local than you than others.
3. Walk more; drive less.
The dog is like really excited to go for a walk. Need to grab a few veggies? Grab your kids, your spouse or a friend and walk to the grocery store instead of driving. Go for a walk through your neighbourhood instead of that afternoon drive.
And while you're walking, for the love of WOOF, pick up your poop. I'm not going to lecture you on WHY (mostly because Jessica at You Did What With Your Weiner is a legit expert on water quality and why poop ruins our water ways). Not every city handles pet waste the same way. Give your local town hall a call to find out how they prefer you dispose of pet waste. Where we live, it's recommended that we scoop and bag. I'm an over achiever, so I also like to use Earth-friendlier poop bags that will break down faster than a standard bag. They don't really cost that much more and I get to feel good about what a tree-hugging human I am.
4. Speaking of scooping poop, make good litter choices.
A kitty's got to go when a kitty's got to go, but some types of litter are more planet friendly than others. Some types of litter are actually a by-product of the strip mining industry! (gasp) For cats that will use it, consider Earth-friendly options like wheat – based or wood-based litter can be a better choice and leave a smaller carbon footprint.
5. DIY when you can.
OK, so I'm clearly a squitch biased, but DIY is such a great way to use materials that might otherwise go wasted. You can turn an old water bottle into a treat dispensing dog toy or convert a destuffed plush toy into a restuffable dog toy your dog can play with over and over. Toilet paper rolls and scissors can actually make a cool cat toy that even my grumpy old cat used to love.
Your pets will LOVE YOU for making them treats. We have so many homemade dog treat recipes that are free to use and there are bunches of cat treat recipes on Pinterest. Lots of our DIY dog treat recipes are the perfect way to use up bananas that are past their prime and might otherwise wasted or to use leftovers.
6. Environmentally friendly, pet friendly cleaning and grooming products.
I'm going to go out on a limb here and say that bleach wipes, bathroom sprays that smell like pine and any cleaning product that has a three inch long warning on the label isn't doing Mother Nature any favours. Here at Casa de Kolchak, I use a lot of natural cleaners, but my staples are white vinegar, baking soda and steam. If you prefer a ready made product, look for natural options free from gross chemicals and weird dyes.
7. Look for ways to create some "Zero Waste Karma"
So I have two dogs and they have a lot of stuff. Felix has an electronic dog food dispensing puzzle that adores. We have dog beds in every room. Felix listens to audiobooks in his downtime. Kol won't drink room temp water. The list of ways these spoiled dogs are harshing my green living vibe is endless and ridiculous. So, I do what I can in other ways. I recycle. I return my cans and bottles. I have a green waste bin and I use the fish tank water to water plants. I'm lucky that my city has programs in place to make all these things ridiculously easy. I know it's not as easy for everyone. But a little effort goes such a long way and after all, we only have one inhabitable planet, so we'd best take care of this sucker.
What do you do to live your best Zero Waste Pet Friendly life?
Are there environmentally friendly products you swear by? Tricks you use to make green living with pets easier? I want to hear from you! Together, we can all waste a little less, reduce, reuse and recycle a little more and be as Earth frienly as possible. Now, let's hold hands and since Kumbaya, mkay?
This is post is not sponsored. No one is paying me. I don't get anything out of sharing this. I attended BlogPaws in May as a paid Ambassador and I left inspired by some of what I learned there. This post does contain affiliate links. If you make a purchase, we may earn a small commission. All information shared, opinions stated and tips suggested are solely my own. 
Comments
comments