As a member of the Etsy affiliate program and an Amazon Associate, I earn from qualifying purchases.
It's raining. I'm cold. I'm a bit cranky. A good book, a cup of hot tea and a warm dog for my lap is everything I want right now.
When I was a kid, I'd spend hours curled into one of those old wicker hanging chairs on our deck. No matter the season, that's where you'd find me, snuggled up with a book. I was a voracious reader devouring stories as fast as the library would lend me more.
Somewhere along the line, life got busy. I grew up and got preoccupied. While my love of a good story never waned, my commitment to finding the time explore new books and actually sit down to read them has withered. After all, Netflix has like 10 000 ways to spend an afternoon. I have a busy job and an even busier side hustle. Plus, an active dog who wants to go on adventures and just a lot going on, in general.
I want to read MORE this year and I want to read more books about dogs.
For the new year, I've treated myself to a few special things to make reading as cozy and inviting as possible. I've filled my Amazon wishlist with books I'd like to check out. I've set aside time to read. AND I designed these super adorable book stickers. (I like you guys, so they're available as a free download at the end of the post!).
To help keep me on track, I'm considering joining in the Modern Mrs. Darcy Reading Challenge. The prompts are super open to interpretation and there aren't a MILLION of them like some reading challenges. (Fact: if your reading challenge has 112 prompts, I'mma fail real hard at completing it.) So if you're looking for a gentle, easy, attainable reading challenge, this is the one. And if like me, you love a book with a dog in it, I've got some suggestions.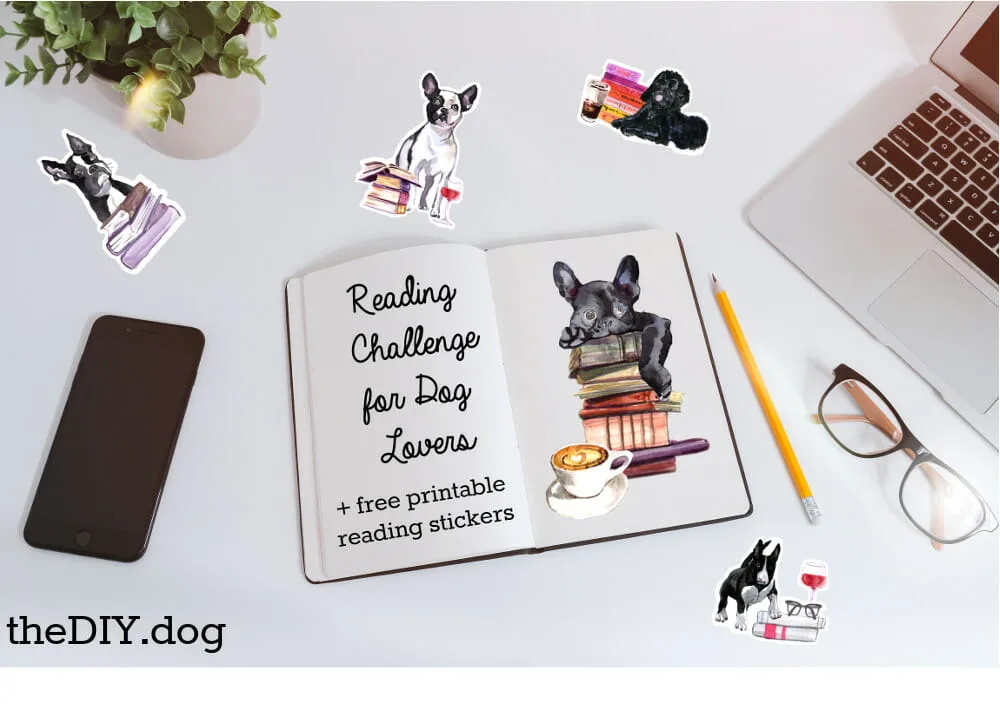 This post contains affiliate links. If you make a purchase, Kol's Notes will receive a small commission, but your purchase will not cost you anything extra.
Reading List for Dog Lovers
My first pick is always top of my list and it grows nearer my heart as both my dogs are in their senior years. We bought this one for my Grandfather for Christmas this year. He loved it as much as I do. (Which is saying something because he is the human version of Kol and a delightful crusty old curmudgeon.)
If you've ever wondered what stories the dog would tell if they were asked to recount their life with you, this story will be filled with wonder and heart-warming moments. On the eve of his passing, Enzo the dog recounts his life with his human, race-car driver Denny. Filled with wisdom, love and laughs, this is always (and possibly forever) my first recommendation to dog lovers who want to snuggle up with a good book.

You know how sometimes you just want to drink tea and read a book and sob until you get the hiccups? No? Just me then? Well, if there is one other person out there for whom emotional wreckage is their jam, this is the dog lover book for you. My step-dad gave me this in the first grade in a desperately un-age-appropriate bonding attempt. I remember it emotionally devastating me, but in like the BEST way. This book kicked off a life-long obsession with books that kick me right in the feels. No list of books for dog lovers would be complete without it.
When a book about dogs won the 2015 Giller Award, I was super excited. When the author was awarded a Windham-Campbell Prize in 2017, I was overawed. Canadian authors don't always get to bring their stories to the world stage. I found this book enthralling, even if it left me feeling somewhat uneasy about the social construct of the dog-human relationship. Centered on exploring what would happen if a group of dogs was given the (sometimes questionable) gift of human thought and language, this book raises so many mixed-feelings about life with dogs, human nature and how society is organized.
Suspect by Robert Crais
I recently asked friends to recommend some good reads to me. I didn't specifically ask for books about dogs, but I'm not exactly a closet Crazy Dog Lady. My mania is pretty clear to all who know me. My friend Rebecca suggested this crime/suspense novel stating that it has a "well-written dog" in it. She has impeccable taste and I take her statement that the dog is well written as incredibly high praise. The story follows an LAPD Detective reeling from the murder of his partner and his newly acquired police dog Maggie. Named one of Booklist's 10 Best Crime Fiction Books of the Year, I'm chomping at the bit waiting for this to arrive from Amazon.
I have been a huge fan of Tobias Wolff since reading That Room in lit class. I was thrilled to be gifted with this collection of short stories to read on Christmas Eve. Imagine my delight in finding a dog-centric story hidden in its pages. Telling the story of a man walking his late wife's dog, it explores the idea of love, grief, forgiveness and finding joy through pain. Come for the dog story; stay for the rest of the collection showcasing the best of Wolff's incredible work.
Dr. V's Pawcurious is one of the first blogs I started following when I realized personal websites were even a thing. While we don't always see eye-to-eye on dog food, I'm in love with her as a story-teller and the way she recounts her memories with a mix of humour, emotion, and wisdom.
Long before I knew he was a dog lover, I used to devour Dean Koontz's suspense novels. However, discovering his dog's Trixie's corner of his blog was what cemented him in my heart as a kindred spirit. Such a departure from his thrilling and often dark fiction works, A Big Little Life explores the living embodiment of joy that was his golden retrienver Trixie and the lessons she taught Koontz about living in the moment. (Related: Trixie's Christmas is Good is one of my favourite coffee table books.)
Peggy has been a friend of mine practically forever – in fact, she was one of this blog's very first followers, one of my first blogging friends and has always been one of my greatest supporters. Peggy has written a lot of things I love, including books about dieting with your dog and several heart warming Chicken Soup for the Soul stories, but her latest book looks so very lovely and I can't wait to dig into it. Exploring the concept of dogs with jobs and how these amazing animals can comfort children in times of need, it's sure to be a heartwarming fav. Pre-order it on Amazon now (January 22, 2019 release)
Your turn. I need MOAR STORIES. Can you recommend a great book for dog lovers? Is there something on your reading wishlist this year? I would LOVE to heart about it.
And don't forget to download our new dog lover reading stickers! I bought some absolutely BEAUTIFUL water colour clip art from MilaWorldDesigns on Etsy to make this sticker set with. I couldn't be more thrilled with it. All the credit for these beauties goes to the artist. They are PERFECT for marking reading and snuggle time in your planner.