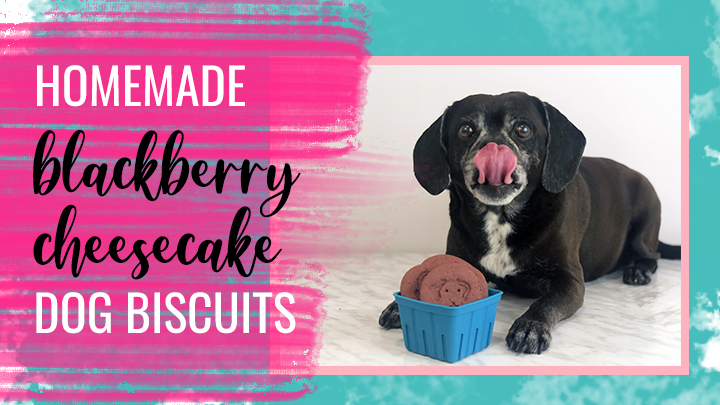 As a member of the Etsy affiliate program and an Amazon Associate, I earn from qualifying purchases.
At our apartment, there is this huge, overgrown, out of control WALL of wild blackberry bushes.
It's such a lovely thing to have fresh, ripe blackberries just a few feet from your door and I love this richly flavoured, juicy fruit. But, when we first moved in I was a little concerned because Kol also likes a lovely blackberry and he particularly enjoys eating the berries that have fallen loose from the bush.
Can dogs eat blackberries?
The good news is that blackberries are absolutely 100% safe for dogs to eat – in moderation. They're low in sugar and calories making them an ideal snack to share with your favourite pooch. Like with anything though, if you go hog wild and let your dog eat a bucketful, they'll probably experience some discomfort and upset stomach. The last thing you want is a dog with a bad stomach, so make sure you keep your servings appropriate.
Even with several of us picking the blackberries, there's always more than enough on the bush, so I'm usually on the look out for ways to use them up.
Making blackberry cookies for Kol is a no brainer and I'm lucky to have a great recipe for blackberry dog treats! These homemade treats were originally shared in 2013 as a part of our Iron Canine Recipe Contest. It was created and submitted by my friend, Cristina of Cristina's Dog Treats in Tillamook, Oregon, and was a summer favourite of her dog, Nanqu. Sadly, both Cristina and Nanqu were lost in a vehicle accident earlier this year, but we remember her, her friendship, and her passion for making healthy, fresh dog treats every single time we bake these. Cristina's loving family decided to keep making Cristina's Treats in her honour. You can find them on Facebook and stay up to date on all of their tasty news.
Yield: 2 dozen x 2.5" cookies
Blackberry Cheesecake Dog Biscuits
These fun all-natural coloured dog treats feature fresh summer blackberries, rich and delicious cream cheese and have no wheat or eggs in them, making them a great dog treat for dogs who have allergies.
Additional Time
30 minutes
Total Time
1 hour
8 minutes
Ingredients
8 oz. fat-free Cream Cheese, softened
1 tablespoon Carob Powder
1 cup fresh Blackberries
1 tablespoon Honey
1/2 cup oatmeal flakes
2 cups Gluten-Free Baking Mix*
Instructions
Preheat oven to 325 F and line a baking sheet with parchment paper.

Cut your non-fat cream cheese into 1" cubes and toss it into the food processor. Puree until smooth.



Add your blackberries, honey, carob powder, and oatmeal flakes, then puree until smooth. Use a spatula to scrape down the sides of the food processor to ensure there are no chunks of cream cheese or big pieces of oatmeal hiding in the corners.



Measure two cups of gluten-free baking mix and sift into a medium-sized bowl.



Pour in your blackberry and cream cheese puree.



Stir until all flour is incorporated and you have a soft, slightly sticky dough.



I know what you're thinking. This is too sticky to use. It's too sticky to roll out. I've done something wrong. *DEEP BREATH* You haven't. It's going to be fine.



Wrap the dough in plastic wrap, pop it in the fridge and chill the dough for 30 - 60 minutes until firm. You're going to be tempted to skip this step. Don't. The dough is too soft to work with and you'll have regrets.

Turn out dough onto a lightly floured surface and gently knead until workable. Use a rolling pin to roll out the dough to approx. 1/4" thick.



I love to use cookie stamps on treats like this. Using a stamp to press the center of the dough thinner stops the top of the cookie from "doming" and create an even bake. Plus it's cute! If you don't have cookie stamps? No big deal. Just use a fork to pierce the center of each cookie, so steam escapes while it is baking. I tested this recipe both ways and both worked great.



Place your cookies on your parchment-lined baking sheet and bake for 15 - 18 minutes until they smell dreamy and the bottoms are a light golden brown.



The cookies will be soft and crumbley, but if you turn off the oven and leave them inside to cool for several hours, you'll get a crisp, crunchy treat. Kol prefers these cronchy.



Notes
*If your dog is wheat tolerant, you can sub the gluten-free baking mix with all-purpose flour

Store blackberry cheesecake dog treats in an airtight container in the fridge for 3 - 5 days or in the freezer for up to three months.
Recommended Products
As an Amazon Associate and member of other affiliate programs, I earn from qualifying purchases.
The cream cheese means these smell great when they're baking. I'm sitting here, drooling and craving cheese cake because even though I know Kolchak is going to love them, they probably won't make a great treat for humans.
But wait, can dogs eat cream cheese though? I thought it was too rich and fatty.
Fair question! Cream cheese is not known for being a dog-friendly ingredient. However, it's totally safe to give your dog non-fat cream cheese from time to time, you just don't want to give them a whole bunch. Cream cheese even has good things like healthy fatty acids, calcium, and protein in it. I always use a non-fat variety and make sure that it's only fed in moderation. Treats are meant to be just that – TREATS. Each of these 2.5″ dog treats has about a 1/2 tablespoon of cheese in it. The perfect serving size – but I wouldn't give your dog too many of these in a day or you'll risk stomach upset. I usually freeze my homemade dog treats for up to three months in an airtight container, this way, I can pull out a couple of cookies at a time.
These summer dog treats are a great way to add some fresh foods, variety and sparkle to your dog's summer days. Kol is fan. Big time.
Pin It for Later:
Check out more baked dog treat recipes: