As a member of the Etsy affiliate program and an Amazon Associate, I earn from qualifying purchases.
Sewing isn't my favourite task.
In fact, if I had a catchphrase, it would probably be "can I hot glue that?", so frankly, no one was more surprised than I was that I've spent more than a minute sewing mask this year. Making sure people who wanted a mask had one felt like one little thing I could do this year to help my community, so I've been sewing. 2020 is full of surprises.

There's a fair bit of scrap fabric leftover when my masks have been cut and it occurred to me, these long thin strips would make really adorable DIY dog collar covers! Koly and I can match!! I assume he's never wanted anything more than to match me because obvs, I'm the coolest and he adores me. As evidenced below.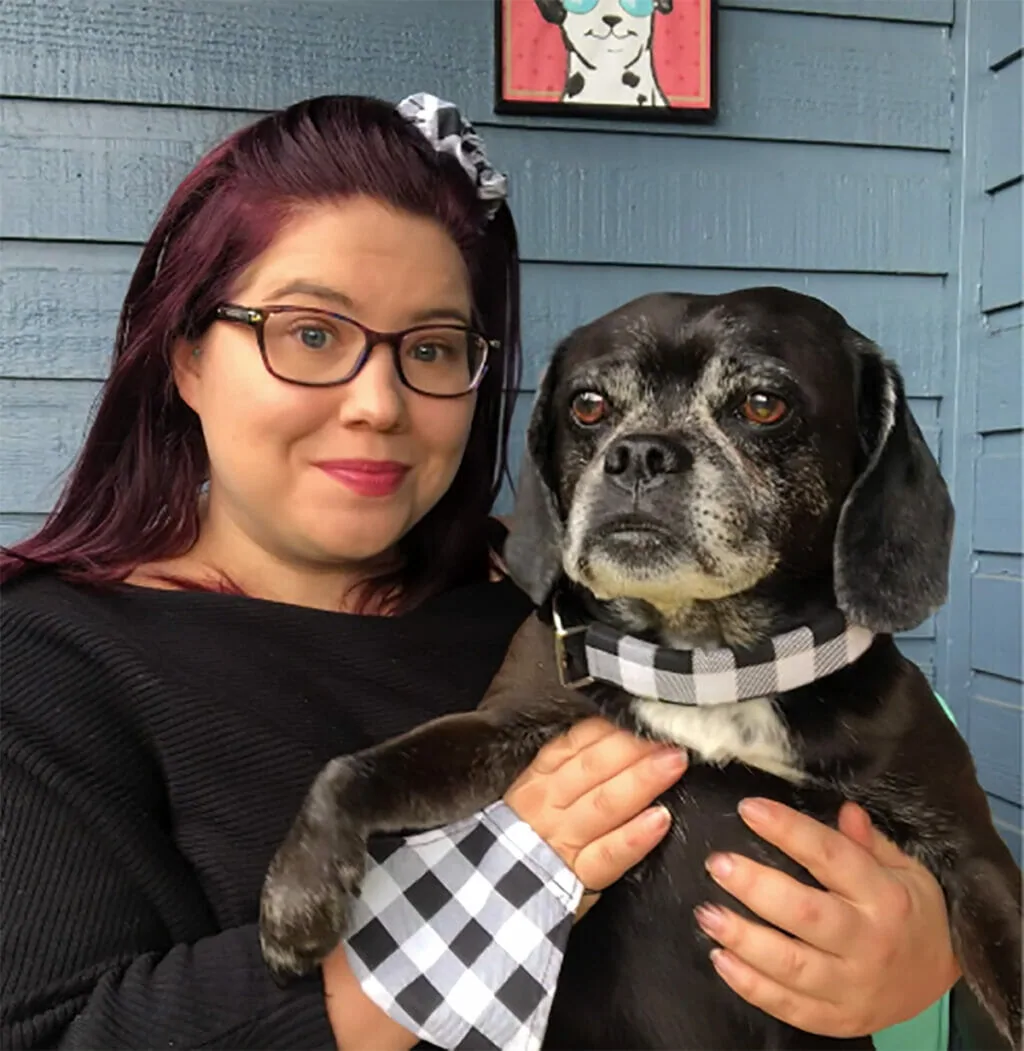 Why make a dog collar cover instead of a dog collar?
As much as I love the idea of having a collar for every occasion, we don't. First, I don't know where I'd store them all. Second, handmade dog collars aren't exactly… low cost. A collar cover on the other hand can be stored flat and they're easy to stack in a storage box. Because there is no hardware on them, they're quite affordable to make, so I won't feel bad about having dozens of them and most importantly, a collar cover is purely decorative, where an actual dog collar is a safety item. I'm just not confident enough in my (or my decades-old sewing machine's) ability to sew a dog collar that could safely withstand pulling or catching on bushes without coming apart.
Plus, it is so easy to sew a cover for your dog's collar.
Our tutorial works for both buckle collars like the one I use for Kolchak and for plastic side-release style collars. They easily velcro on or off and they look super cute. You can easily make a BUNCH so your dog has a special collar for pretty much any occasion.
Confession: I cheated a little though.
There are a ton of people on the interwebs offering free patterns for mask sewing. And I mean, why fix something if it ain't broke? I don't need to design my own mask pattern because there are so many and they're great. I have been using the Craftpassion basic patterns to make my masks, but the amazing community over there has come together to offer MANY variations on the pattern, including masks with pockets, masks with clear windows to make lip reading easier, longer masks to accommodate beards, with and without nose wires, etc. Joanne and her community have really done a bang-up job of helping find the perfect fit for everyone.

You can find all of her free to use patterns on the Craftpassion website. For myself, I'm using the Women/Teen sized standard pattern with no pocket or nose wire. The fit is near perfect for me.
Since it doesn't look like this pandemic or mask mandates are going away anytime soon – and since now that I know even the common flu kills an incredible number of people every year – I'm a mask convert. I owe an apology to every Vancouverite I've ever given side-eye to for wearing a mask. The respect mask wearers show their community truly warms my heart.

So, I make masks. And if you're going to wear something like a mask? Why not make it cute and fun while you're at it?!

I love the idea of making masks that match Kolchak's homemade dog collar covers!
We'd love to see photos of you and your dogs in your matching gear! Head over to our Facebook page to drop a photo and say hi!