As a member of the Etsy affiliate program and an Amazon Associate, I earn from qualifying purchases.
This recipe is for Moi.

No, no, not Moi, as in Kolchak Puggle. Moi the Golden Retriever.
Moi's Mom is like a bird or a deer or something.
She only eats grass and roots and seeds and junk. No meat at all. I think it's crazy. I mean really?! I'm a dog! There are few things in the world that are better than a nice, meaty jerky treat? What could make you happier that a tasty pizzle stick? What do you mean you don't eat no meat?!
Like any good Mommy, even though she thinks it's totally disgusting, she gives Moi (and his sister Messie) the tasty meats they need.
They get fancy pants fresh food that has fishies in it. I love fishies! Moi's Mom is pretty cool after all, even if she does eat weird food. She draws the line at the treats though. She'll buy lots of tasty treats, but she is NOT going to get all gooey and gross touching raw meat to make cookies for Moi. That's hokey! There's just more meat for Koly.
Like every pup, Moi would like a nice homemade cookies once in a while.
So we needed a recipe that did not involve any meat. We knew exactly what to bake with: carrots! Sweet, yummy carrots! They're one of my favourite foods, you know. Sometimes, the Mama will peel me a whole carrot and let me gnaw on it like a bone. How cool is that?! She almost never makes me carrot cookies though, and frankly, I have no woofing idea why?!
Carrot Cookies are woof-tastic.
Want to make Carrot Cookies of your own? Let's do this! You need:
Tasty Tuesday: Carrot Cookie Dog Treats
Ingredients:
2 cups cooked, mashed carrots
1 cup garbanzo bean flour (or all-purpose flour, if your dog is grain tolerant)
1 egg (or 1 tbsp. flax meal mixed n 3 tbsp. water and let sit for 10 min.)
1/4 cup real maple syrup (or substitute honey)
1/2 tsp. cinnamon
1/2 tsp. ginger
1/2 tsp. baking powder
Instructions
Pre-heat over to 325F. Line a baking sheet with parchment paper.
In a medium bowl, stir together mashed carrot, egg, maple syrup, cinnamon, ginger & baking powder. Mix well. Add in flour, stirring until fully combined.
Drop 1 tsp. blobs of mix on the baking sheet. Bake for 35- 40 min. until the cookies are goldie brown. (BOL! Get it? Get it? Goldie? 'Cause Moi's a Golden Retriever? ... No? Oh, bark off. I'm woofing hilarious.)
This recipe make a soft homestyle cookie. For something a little crunchier, turn off the oven and leave cookies to cool overnight.
We love these carrot-y treats and they made the house smell good! What do you think? Do you like carrots?
PS – Don't forget to enter our Treat of the Week Giveaway featuring Grain-Free Mutt Munchers Treats! Enter to a win a bag of your favourite flavour + a $25.00 Gift Card to Muttropolis.com!
Welcome to the Tasty Tuesday Blog Hop!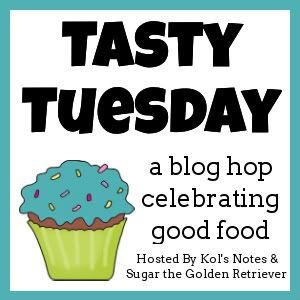 Every week, we invite you to link up your Tastiest Post and Hop On to discover all sorts of new treats recipes, great giveaways and more!
To take part, follow your hosts, Kol's Notes &; Sugar the Golden Retriever, grab the badge from our sidebar,
get the InLinkz code
for your post, and add your link to this week's hop!
All posts are the property of Kolchak's Kitchen and Kolchak Puggle/Jodi Chick. Please ask before reposting content. All reposts must link back to our site. Thank you!