As a member of the Etsy affiliate program and an Amazon Associate, I earn from qualifying purchases.

This post is a part of K9 Kamp. Are you ready to have fun and get fit with Fido! Play with your balls and complete
this week's K9 Kamp Challenge
to win great prizes!
It's time for Tasty Tuesday to get low!
Low calorie treats
that is. I don't know about your dogs, but if they're
anything at all
like my Kolchak, then they are pretty much always ready for a treat. Day or night, nothing gets Kolchak's attention like a snack. I guess I got kind of lucky to have a pup who is
so willing to work
just to get his mouth on a snack. It's made training him infinitely easier.
It also made him chubby.
The thing about a whole lot of the treat on the market is that they're really high calorie and they contain some not-so-great ingredients. You've got to watch out! Always read the labels to see what you're really spending your money on on.

Why is THAT in a dog treat?


Koly used to LOVE those peanut butter-stuffed dog bones. No seriously, he should be ashamed of the things he would do for a bone. I never really gave it much thought; it's just a bone stuffed with peanut butter, right?

Wrong. These innocent looking bones have
FOUR different sugars in them?! No, thank you!
Skip the sweetened treats. Your dog doesn't need them and they'll never know that they could have had the canine equivalent of a candy bar.
I had to learn fast what to look for in a good treat!
With Koly getting so many tasty treats, the treats had to be high quality and low calorie. I was looking for something low carb, no sugar and not full of artificial flavours. If they were calling them chicken treats, I wanted there to be chicken in them.
I was surprised at how little there was out there.
It's actually a big part of why we started making treats at home. There just wasn't a lot could give the boys. Between Kol's tubby tummy and Felix's grain allergy, there weren't many options. We discovered fruit and veggies as treats, which the dogs love. love. love.
I know not everyone has the time to make homemade treats though. It's cool. I'm a nutjob and know it. I just love getting in the kitchen and making something yummy (and healthy) for my dogs.
With just 7 calories each, these treats were a hit with me because they only had ONE ingredient: whitefish. They were a hit with Koly because they are fishy & delicious. He loves their chicken treats every bit as much as the fish ones.
Kolchak adores the Zuke's Mini Naturals too. Just 3 calories each, these tiny treats were just enough to keep him motivated.
Another family favourite? The Gracie's Garden treats from Three Dog Bakery are tasty and healthy!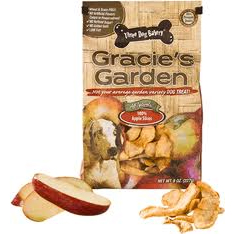 Check out the carrot or the apple slices. Since they're just 100% dehydrated carrot or apple, they are tasty and good for your dog.
We love the Honest Kitchen and their Peck treats are a great choice for a pup on a calorie budget.
Just 6 calories each, these bite sized treats are a tasty combo of buffalo & blueberries. Koly does all sorts of great stuff for these yummy treats!
What low calorie treats do you buy?
Kol's Notes dd not receive promotional consideration from any of the companies above for this post, although we are looking forward to woofing all about the Tasty Treats from Purebites in a few weeks. All opinions expressed are our own.
This is a blog hop!
Every week, we invite you to link up your Tastiest Post and Hop On to discover all sorts of new treats recipes, great giveaways
a

nd more!
To take part, follow your hosts, Kol's Notes & Sugar the Golden Retriever, grab the badge from our sidebar, get the InLinkz code, and add your link to this week's hop!
All posts are the property of Kolchak's Kitchen and Kolchak Puggle/Jodi Chick. Please ask before reposting content. All reposts must link back to our site. Thank you!