This past weekend, I made pupcakes.
I mean, I know it was Mother's Day and all and that, traditionally speaking, Koly and Fe should have baked for me, but let's face it: there would be a lot of dog hair in that cake.
I was playing around with a new Chicken Pupckae recipe (it's not quite perfect yet) and by the third batch, I realized we had way too make pupcakes.  WAY, WAY TOO MANY.
My dogs get pupcakes as a treat, that means a very small part of their diet (less than 10%). There was simply no way we were going to use all these pupcakes before they went bad.
I decided to turn our soft pupcakes into a crunchy dried treat.
It's super easy to turn leftover cake into a crunch treat that will last much longer.
These dry, crunchy cookies will drive your dog wild. Here's what you need:
If you are using the oven, turn it to 150F.
Slice cupcakes into 1/4 slices and lay out on the cookie sheet or dehydrator trays. If desired, you can cut the cake into training treat sized bites.
Bake for 3 – 4 hours. If you prefer to use a dehydrator, dry for 4 – 6 hours.Store in a cool, dry, airtight container.
Pupcake Crisps are ready when they snap clean in half and have no moisture left in the middle.
Do you have any clever ways for using fresh baked dog treats before they spoil?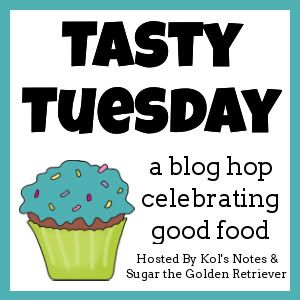 Every week, we invite you to link up your Tastiest Post and Hop On to discover all sorts of new treats recipes, great giveaways and more.
To take part, follow your hosts, Kol's Notes &  
Sugar the Golden Retriever
, grab the badge, get the code for your post, and add your link to this week's hop! What are you waiting for? HOP ON!
Comments
comments