As a member of the Etsy affiliate program and an Amazon Associate, I earn from qualifying purchases.
Mama and I are huge advocates of rescue. Felix is a rescue and Mama says he is the sweetest, most loving and happy go lucky pup she has ever met. You might not know this about me (BOL), but I am a bit of an outspoken loudmouth, so we don't usually hesitate to suggest a rescue when friends or family are talking about adopting a furry friend. Often when we talk to people about rescuing, we hear a few common reasons people feel they can't adopt.
"We want a puppy."
"We have our hearts set on a purebred."
"We just aren't equipped to deal with a rescue dog's issues."
Shut it Foo! What'chu talkin' 'bout, Willis? None of that crap is even TRUE!
All over Petfinder right now, you can find some freaking adorable puppies born to strays and owner surrender, purebreds (even papered purebreds) from breeder surrenders or breed-specific rescues and tons of mixed breed dogs that haven't been used and abused and don't come with their own set of matched baggage. Yes, there are some pups that need special families to help them with their special issues, but that isn't always the case. Right this second, all over Petfinder, your perfect pup is waiting. You just have to go find them.
And while you are finding them, do me a favour – look at the black dogs. Black Dog Syndrome SUCKS. Felix is a black dog. He is freakin' adorable. I am a black dog – who wouldn't want to take me home?! Black dogs are the black sheep of the rescue world. Those stupid humans don't stand for that in the human world and I don't think we should stand for it in the canine world either! It's BS!
FIGHT BDS! ADOPT A BLACK DOG TODAY!
So today, in honor of Petfinder's Adopt the Internet Day, we are featuring a back dog from each of Canada's 10 great Provinces and 3 awesome (albeit freaking cold) territories.
We'll start in the East and work our way towards the best city on Earth, my city, VANCOUVER!
Dognabbit! My plan was foiled right off the bat. Not a single dog from Newfoundland or PEI listed on Petfinder! Seriously, that blows. There are rescues and shelters there, GET ON PETFINDER YOU GUYS. OK, new plan, 8 great provinces and 3 (no wait, nothing in Yukon) make that 2, (No wait, nothing in Northwest) make that 1 (no wait, nothing in Nunavut) make that NONE of the awesome territories. Let's Go!
Nova Scotia!
This is Garrison, Harrison & Ollie
Garrison is available for adoption, along with his brothers, Harrison and Ollie from the Lillian Albon Animal Shelter in Amherst, Nova Scotia.
These sweet boys are part collie, part german shepherd and just cute as a bug's ear! They are just 10 weeks old. *gasp* Puppy breath 🙂
According to the shelter are are sweet, good natured pups with good natured parents.
Adopt Garrison, Harrison or Ollie today!
New Brunswick!
This is Jax.
Jax is available for adoption from the Saint John Animal Rescue League.
Jax is a labrador retriever, german shepherd mix. He was adopted, but then returned to the shelter, but due to unexpected circumstances that were out of his control, he was returned.
He is friendly and affectionate, but has a few dominance habits that need to be trained, so that they don't turn into problems.
Adopt Jax today!
Quebec!
This is Maya
Maya is a cute pure-bred schnauzer available for adoption at SPCA Monteregie in Sainte-Angele-de-Monnoir.
Maya was given up as her family could not care for her anymore. She is fun, intelligent and playful. She is not yet spayed, but has an appointment next week.
Adopt Maya today!
Ontario!
Meet Leo and Tucker!
Leo and Tucker are available for adoption at the SOS Dog Rescue in Brampton.
These boys were both rescued through Petfinder.com 6 and 4 years ago. These boys are being surrendered to us by their family. We would love to keep them together if at all possible.
Check out their Petfinder profile to read the notes from the obviously loving family who are surrendering them. These boys break my heart. I hope they can stay together.
Adopt Leo & Tucker today!
Manitoba!
Meet Mitzy!
Mitzy is a three month old Border Collie Lab mix available for adoption at Hull's Haven Border Collie Rescue.
She is a very sweet little girl. She loves to cuddle and gets along well with my other dogs, they don't like her so much but she is not deterred by this. She loves human contact and is is having very few accidents in the house. She loves to play with her toys and is being crate trained at night. She comes when called and is very playful and wants nothing more than to be held and give you little puppy kisses.
Adopt Mitzy today!
Saskatchewan!
Meet Rocky, Rexie, Ebony & Onyx!
These sweet corgi basset hound mixes are available for adoption from Bright Eyes Dog Rescue in Regina.
Mom is a corgi and Dad is a basset hound. Aren't they just the sweetest things?!
Adopt Rocky, Rexie, Ebony & Onyx today!
Alberta!
Meet Styles!
Styles is a unknown (lab? rotti? staffie?) mix available for adoption from Paws and Claws Animal Rescue Foundation in Red Deer.
She is four and a half months old. Her foster mom calls her "Wriggle Butt" because her whole body wags when she sees people! She adores belly rubs, and likes other animals. She adores people, and is good with cats and other dogs.
Adopt Styles today!
British Columbia!
(oh Dawg, here we got. If I end up with a sibling here Petfinder is in BIIIIIG trouble!)
Meet Boots!
Boots is a Labrador Retriever Mix available for adoption from 1atatime rescue in Vancouver.
Boots is a beautiful young lady, approx. 2 years of age and weighs about 55 lbs. She was dumped in a box outside our rescue partners kennel when she was a pup. She is a smart girl, knowing how to lay down, give a high five and cross her legs to show how lady like she is.
Adopt Boots Today!
And as we've mentioned before:
Sweetpea & Snowball are still available
at Little Mischief Rescue in Vancouver, BC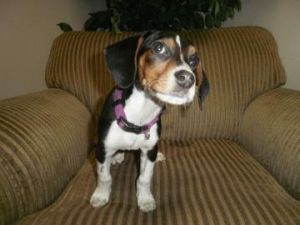 And Pepsi is now an ADOPTED DOG
at Decatur Animal Services in Decatur, AL
And Buster is still available
from Dunedin Dogs in Dunedin, FL
This BlogHop is hosted by Petfinder as a part of their Adopt the Internet Day. Please check out the event and do what you can to help!
All posts are the property of Kolchak's Kitchen and Kolchak Puggle/Jodi Chick. Please ask before reposting content. All reposts must link back to our site. Thank you!