As a member of the Etsy affiliate program and an Amazon Associate, I earn from qualifying purchases.
I knew it was a hare-brained scheme, right from the get go. On the surface, it sounded like a greeeeeat idea. Easter Eggs? For dogs? um yeah. Do that Mom.
It could have all worked out, if only Mama hadn't been yammering away, shooting her mouth off when she picked us up at daycare last month. She had her panties all in a twist about these doggy eggs and she told Miss Karrie about them. WELL! Miss Karrie was just as excited about the eggies as Mama was – and promptly ordered a whole bunch (500!) in Easter Baskets for her client appreciation day today – an Easter Egg hunt!
Well, it was all well and good for Mama to TALK about eggies, now she had to make them! BOL…let's see you work you're way outta this one lady.


Well, Mama set right to work. You should have seen the hot mess she made – flour everywhere, molding eggs by hand, trying to figure out just *how* she was going to fulfill this extravagant promise. The first batch she rolled into egg shapes, but they didn't cook in the middle. The next batch she used an egg cookie cutter – and they were GREAT, but it felt a little like cheating. She started to get that harried, too many sleepless nights look – hollow eyes, pale skin, that wild look in her eyes of desperation. Just how was she going to do this? It was a real open snout/insert paw moment.


Finally – it came to her and she started making peanut butter eggs – adorable little sandwich cookies shaped like an egg and dipped in yogurt coating. YUM! They're not bad eh!


But alot of work. Mama says they wouldn't have been so bad without the yogurt coating on top.


WITHOUT THE YOGURT COATING? What the bark?! But Mama! That's what made them pretty!


Wanna try em?


Ingredients:
1/3 cup natural, unsweetened peanut butter
1/2 mashed banana
1 1/2 cup ground oatmeal
1 egg
1 tablespoon honey


Filling:
1/4 cup natural, unsweetened peanut butter


Coating:
Yogurt melting chips
Natural food colouring


Pre-heat oven to 350 degrees.


Stir together peanut butter, banana, egg & honey. Stir in oatmeal. (Add extra oatmeal, if necessary, to make a fry, unsticky dough).


Using a half – tablespoon or a tablespoon (you know the cute plastic egg shaped ones?) form egg halves. (I had to beat the spoon against the side of the bowl to get the dough out.)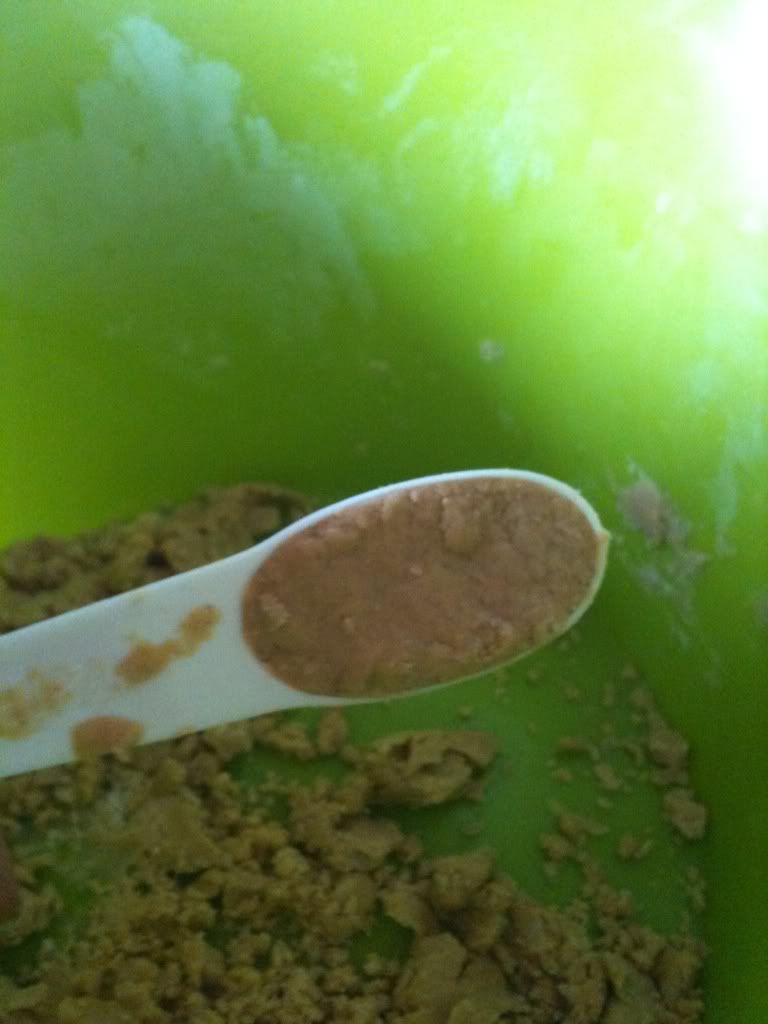 Lay out egg halves on a cookie sheet.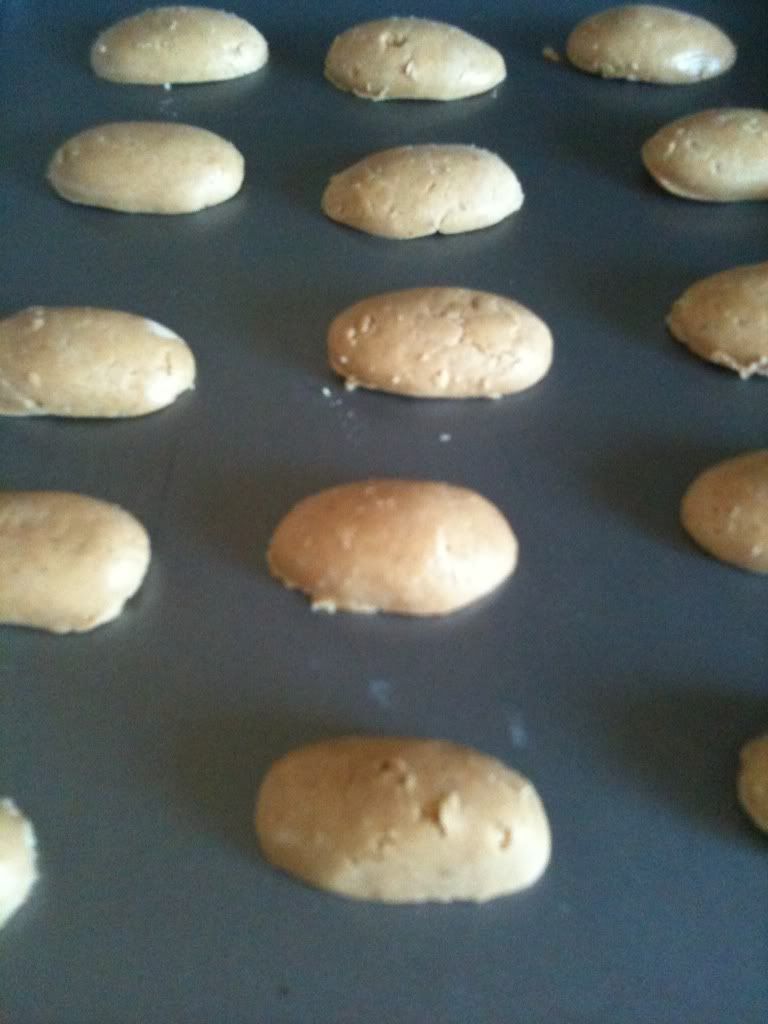 Bake for 20 to 25 minutes until golden brown. Place cookies on a cooling rack and allow to cool completely.
Once the cookies are cool, use a teensy tiny spatula to spread peanut butter over the bottom of each cookie and press them together to make egg shapes.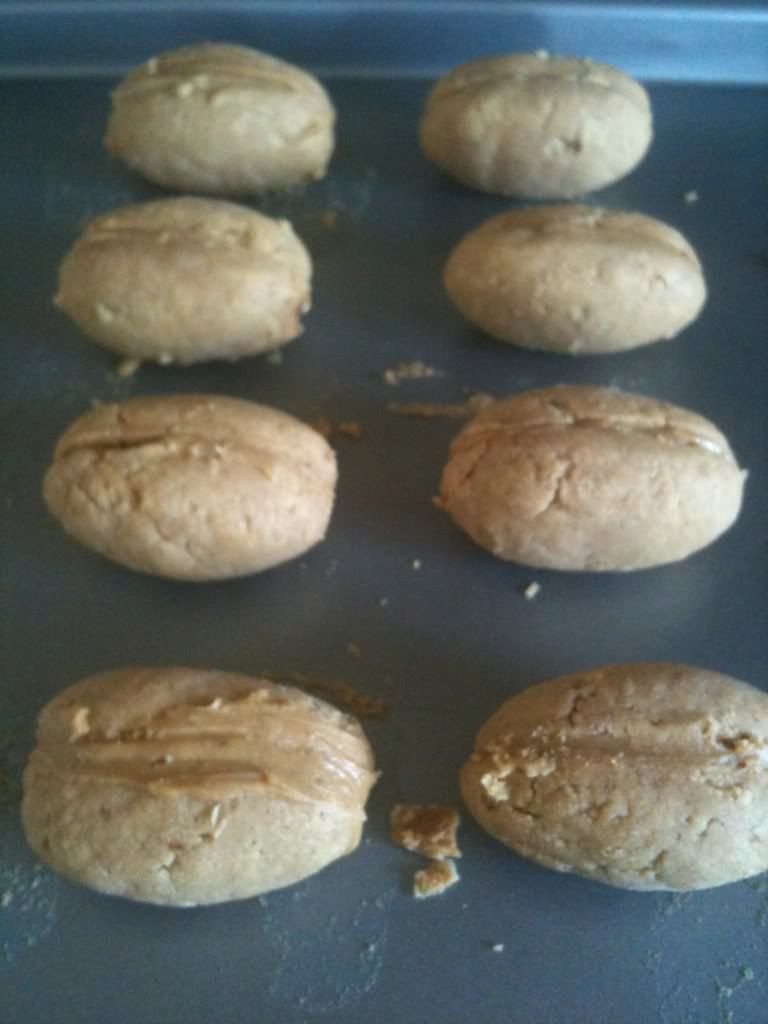 Now this is where it gets iffy. I would have been *pawfectly happy* with peanut butter sandwich cookies! I would have! But Mama has always gotta be all ~fancy pants~ so she took it one step further – dipping & colouring them.
Melt yogurt melting chips in a double boiler. Add a small amount of natural food colouring (if desired). Once yogurt is *completely* melted, dip eggs and place on cooling rack to dry. Make sure you wait until it is completely melted, 'cause if you don't, the egg coating will look all chunky – like these ones. Mama got impatient.
See how darn cute they are? Even these ones which are the "rejects". Mama somehow forgot to get a picture before she loaded them into baskets. Dawg, that woman is getting more hare brained every day! If you aren't as ambitios (read: crazy) as my Mama, these cookies work just as well rolled out to around 1/4″ thick and cut using a knife or cookie cutter 🙂
5 days and about a bajillion batches of these later and we finally completed Karrie's order – just by the skin of our teeth yesterday!
They went into the most adorable little baskets filled with eggies and some other Kolchak's Kitchen Treats – bunny cookies and chicken chips, plus some other great swag – chicken & bunny toys, biodegradeable poop bags and a little plastic egg with a coupon for a free day at Karrie's!
The eggie hunt was a GREAT success! What a beautiful job you have done Karrie. We are so impressed with your facility, the care and attention you give to the pups and how much FUN we have everytime we see you.
All posts are the property of Kolchak's Kitchen and Kolchak Puggle/Jodi Chick. Please ask before reposting content. All reposts must link back to our site. Thank you!