As a member of the Etsy affiliate program and an Amazon Associate, I earn from qualifying purchases.
When you have a pet with dietary concerns, buying treats can be hard. This easy chicken rice and cheese dog treat recipe is a better choice for dogs with calcium oxalate stones and it's still delicious for dogs without health concerns.
* * *
Dear Kolchak,
Oh my dog! My boy Figgy has a problem with calcium oxalate crystals, which are bladder stones. This means the list of ingredients he can't have is huge. Do you know how many dog treats out there have almost all the bad or (in) monderation ingredients only? I am pretty much paralyzed and am calling on you, Mama Jodi & Kolchak to come up with something my boy can eat as a treat, so he doesn't have to be cut open and have those nasty stones removed from his bladder again!
– Tammy and Finnigan, Love on a Leash Trusted Pet Care
OK, Tammy & Finnigan, first of all – that SUCKS! Calcium oxalate crystals are
no fun
at all. Generally speaking, dogs with calcium oxalate stones shouldn't have a whole lot of vegetables. Vegetables are like our
wheelhouse. No peppers?? No spinach?!
Whole grains – like whole wheat and oatmeal are major off limits.
Dogs who have calcium oxalate stones aren't supposed to eat like a ton of my favourite foods. They shouldn't have nuts.
Like peanut butter.

Can you imagine not being able to eat peanut butter?
That would be awful. I don't even know what I would DO. So we set out to make something tasty that our friend
can
have. We wanted to come up with a treat that was really easy to change up and have fun with, so that you could get a variety of tasty treats without much extra work. The meat and the tasty flavour can be changed up with very little work.
Sure, today this is a chicken, rice and cheese dog treat recipe, but tomorrow?
Maybe tomorrow it could be be beef, pea & asparagus! Change it up!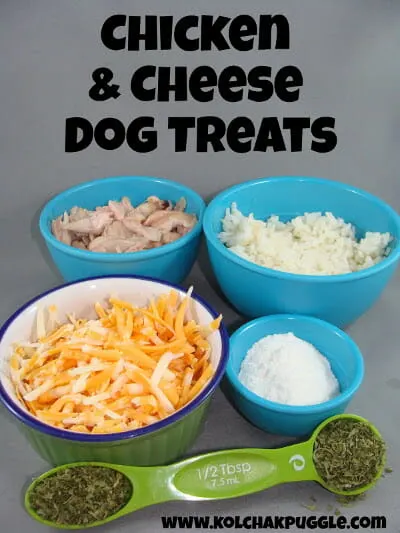 Chicken, Rice & Cheese Dog Treat Recipe
Ingredients:
1 cup cooked, chopped chicken chunks (or other lean meat, like porkloin or fish, but no red meats)
1 cup cooked white rice (or cooked peas)
1 cup shredded cheese (or other flavour booster - like asparagus)
3 tablespoons white rice flour (or pea flour)
1/3 - 1/2 cup low-fat, low sodium chicken stock
optional: 1 tablespoon dry cilantro or basil
Instructions
OK, we don't want to overwhelm you here, so this recipe is like ridiculously easy. Are you ready?
Preheat oven to 350F.
Place chicken and rice into a blender, food processor or Magic Bullet. Add chicken stock a little a time until it forms a very thick paste. (You might not need all the stock.)
Stir in cheese and rice flour.
Spread mixture into a 9x9 silicone cake pan or a wax paper lined regular pan.
Score the treats into 1" squares using a pizza cutter or a knife. (This will make it much easier to break them into bites later.)
Bake the treats for 45 minutes. If you like a soft treat, remove from oven and allow to cool. If you prefer a crunchy treat, flip them and bake them for another 30 - 45 minutes.
Want some some treat ideas? Why not make your own version of our
lean & green treats
or
our chicken thins
, only instead of green beans or broccoli (which are high in oxalates), use asparagus! Our
Puggle Poppers
can be made with white rice instead of brown or stick with real meaty treats, like our
homemade jerky treats
or
salmon snacks!
Our dehydrator is our BEST FRIEND. We think you should get one and then you can make your own meaty treats, easy as pie!Oh, Figgy! I hope this helps. We're going to keep you in mind when we make new treats and we'll make sure we mention if they're Figgy-Friendly!
What's your favourite treat?